Some Delicious Appetizer Ideas For Barbeque

30 Dec 2010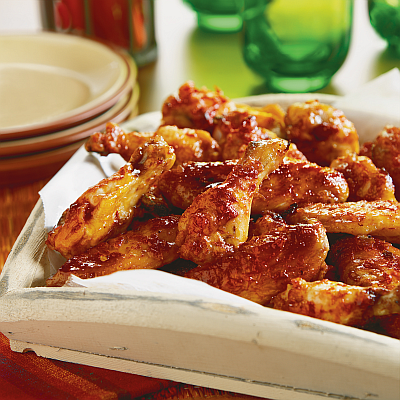 With the onset of the festive season, we start looking at recipe ideas that suit our budget and time, but the most important aspect still remains the taste. After all festivals means food treats, so let us see some delicious appetizer ideas for barbeque that can be served for party as well as for celebrating within your family.
Bacon-Wrapped Jalapeno Peppers
The best appetizer idea for barbeque is bacon wrapped jalapeno peppers. It also contains good quantity of cheese to barbeque the bacon and brings out the taste of jalapeno. Use an outdoor grill and enjoy hot and spicy appetizer on a Christmas or New Year celebration with friends and family. You can use less jalapeno if children are going to eat them.
Spicy Sweet Chicken Wings
Spicy and sweet chicken wings are great barbeque appetizer idea because it has a lot of spices like black pepper, cayenne pepper and garlic salt. Honey imparts a sweet taste and the Louisiana style hot sauce drizzled over barbequed chicken wings enhances the taste by many folds.
Smoked Cheese

Everyone loves cheese, so having a platter of cheese is an unbeatable appetizer idea for barbeque. It is so simple to make and requires just a single seasoning like garlic and onion powder or chili or Dijon mustard and they taste awesome. Serve it hot with tortillas, French baguette or crudités. Cheese appetizer idea for barbeque works well as the festive season sees some interesting drinks on the table and cheese is ideally the best pair.
Grilled Peaches With Berry Sauce
A list of barbeque appetizer idea is never complete without some grilled fruits. It's a good idea to grill peaches and serve with berry sauce. Grill peaches with vanilla, grounded cinnamon, brown sugar and prepare berry sauce with frozen raspberry containing some syrup. Use butter for grilling and lemon juice for some tangy flavor.
Barbequed Spicy Nuts
Nuts are good for health especially during the festive season when we tend to eat a lot and almost more of unhealthy food. Have a platter of assorted nuts including peanuts, almonds and pumpkin seeds preferably unshelled. Use hot chili oil for the spicy taste and virgin olive oil, sprinkle cayenne pepper, salt, paprika and drizzle Worcestershire sauce. They are so delicious that I never forget mentioning them while advising barbeque appetizer idea.
Pick up a couple of barbeque appetizer ideas from above list and you can set a trend for lip-smacking appetizers.
Image Courtesy:  buttermilkpress.com 
Some Delicious Appetizer Ideas For Barbeque