BASIC OF SALAD DRESSINGS
In general, salad dressings are based on either vegetable oils, such as olive, groundnut, sunflower, grape seed, sesame seed, walnut and hazelnut, most of which have their own particular flavours but where pride of place goes to the various qualities of olive oil, or various creams and dairy products such as single, double or sour cream, yogurt, quark, and creme fraiche; and these oils or creams are usually supplemented by an acid, either a vinegar such as cider, sherry, malt, wine, both red and white, raspberry and tarragon, or the juice of citrus fruits such as lemon or lime.  All these acids have the qualities of modifying the  qualities of oil or cream, adding contrasting sharpness and assisting the digestion. The wide range of added seasonings and flavourings include sugar; honey; salt; pepper; paprika; cayenne; Tabasco; mustards, dry and made; anchovies; capers; gherkins; fresh cut herbs such as parsley, basil, dill, tarragon, chervil; sieved hard-boiled eggs; onion; chives; garlic; and sauces such as mayonnaise, soya and Worcestershire. As with the salads themselves, the possible combinations of the above ingredients can give unlimited scope to the preparation of dressings and thus there are a few worthwhile points to bear in mind when preparing them: 
Except for the basic oil and vinegar dressings, storage is best kept to a minimum length of time; some ingredients, where texture is part of the inherent quality of the dressings, tend to become soft and lifeless after a few hours and chopped herbs lose their colour.  Those made with cream and dairy products should always be freshly made.
 
Attention needs paying to the overall balance and emphasis of ingredients and their suitability to the salad with which they are used.  A good dressing will enhance and add quality and contrast to the salad.  A poorly-balanced one will ruin it.
By and large strong-flavoured salad ingredients can support well-flavoured dressings whereas the more delicate or bland items will benefit more often than not from dressings of a more subtle quality but with a single identifiable flavour.
All salad dressings need a final mixing before being used, especially oil-based ones where their emulsified properties tend to separate out if left for any length of time.
The number of dressings in the standard repertoire is extensive; the following represented as a cross-section of the different types and  popular ones.  Many of these dressings are also suitable as dips for Crudites, Fondues, Goujonettes of deep-fried fish or poultry.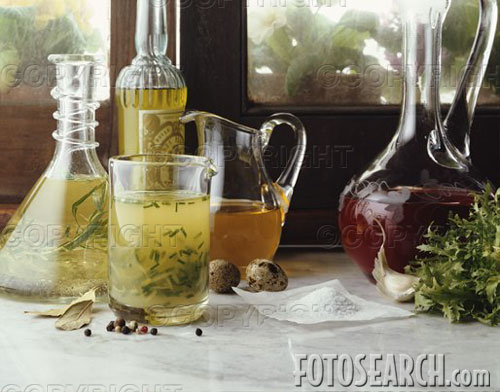 Italian Dressing
Garlic, tarragon, anchovy, oil , vinegar, salt & pepper, 1 part of vinegar - 4 parts of oil.
French Dressing
Vinegar, oil salt, pepper, 1 part of vinegar - 3 parts of oil.
Thousand Island Dressing.
Mayonnaise, tomato ketchup, Tabasco, salt, pepper, & chopped eggs, pimentos & parsley
 Yogurt Dressing
Yogurt, white wine vinegar, salt & pepper
Cream Dressing
Cream, lemon juice, salt & pepper
American Dressing
Hard boiled egg yolks, mustard, vinegar, paprika & oil. 1 part vinegar & 4 parts of oil.
Avocado Dressing Sieved avocado, cream, lemon juice & paprika
like-Beetroot salad-Cooked beet root cut into batons or slices, served with French dressing. 
BASIC OF SALAD DRESSINGS