How To Grow Lettuce In December?
17 Dec 2010
Wondering how to grow lettuce in December? With an endless variety of lettuces available in the market and due to its high productivity, less space need and virtually pest-free nature, it's not much that you need to get a bountiful produce. All that you need for growing lettuce in December is the right knowledge of the correct techniques. So, here are a few tips on how to grow lettuce in December that is surely going to help you in your next attempt of lettuce planting.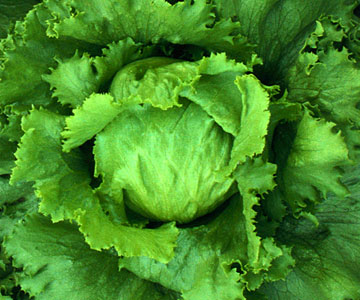 •    Soil:

Soil is an important factor for growing any kind of plant – lettuce being no different. A deep rich, well-moistured and well-draining soil, with lots of sunlight and plenty of water is what the plant needs to grow to its fullest. Therefore, a raised bed with plenty of organic matter that can retain moisture for a longer time works very well for growing lettuce in December. Munching also helps the soil remain moist and cool.

•    Spacing:

Spacing of the lettuce seeds while they germinate is another key point that helps you in growing lettuce in December successfully. Lettuce leaves need a lot of light and air to grow properly. Hence, ensure that there's enough space for them to breathe as they grow. Ideally, you can make a bed which is 8 feet long and 3 feet wide and sow the seeds on them evenly.

•    Time:

The time of sowing the seed also decides how well your produce would be. Start sowing the seeds at least six weeks before the first frost for an even spacing. By this, you give the seeds at least a week's time to germinate and five weeks to reach the baby stage. Sowing the seeds between August and mid-September is an ideal time-frame to start sowing your seeds.

•    Variety:

Choosing the right variety of lettuce is also a crucial point that you need to keep in mind while growing lettuce in December. For example, during the springs, you can choose the "loose-leaf" types that can be harvested sequentially. However, for the cold winters, you need to select the ones that can withstand the coldness of winter months. The topmost categories that can be safely chosen for the winter produce are Winter Density - the Romaine variety that comes with upright rosettes on the bright green leaves; Australe – a butterhead that is slow to mature and forms a green rosette tinged with shades of red; and the "Wildfire Lettuce Mix" – a medley of pretty chartreuse and red varieties.

•    Thinning:

The skillful art of growing lettuce in December also comprise an intrinsic farming technique – thinning. It is important to start thinning as soon as you see the true leaves forming – in fact, the earlier, the better. These tender thinnings are quite tasty and you can use them in almost all recipes.
Thus, while growing lettuce in December, keep these basic points in mind. If you can master these tricks, knowing how to grow lettuce in December is no challenge at all. So, this December, try experimenting with the right varieties of lettuce and the right technique – you are sure to revel in the bountiful produce that you get.
Photo Courtesy: foodpoisonjournal.com
How To Grow Lettuce In December?