How To Make Tofu From Gypsum

24 Nov 2010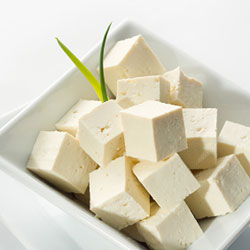 Learn how to make tofu from gypsum; tofu made with gypsum is rich in calcium, almost 10 times than tofu prepared with other coagulating agents. Making tofu from gypsum is very easy; here is a step by step guide for you to learn making tofu from gypsum.  
When soy milk is coagulated with gypsum and the coagulated milk is pressed, you get tofu. Since you will be making tofu from gypsum at home, it is better to use fresh soy milk.
How to prepare soy milk?
Take 3 cups of dried soybeans in a large container, wash and soak in 9 or more cups of water.
Soak it for at least 8 hours or overnight.
Take one cup of soaked soybean in a blender, fill one fourth of the jar with water and blend at maximum speed to pulverize the beans completely.
Place cheesecloth on a colander or sieve and pour out the blended soy mixture. Soy milk will get filtered through the cheesecloth.
Blend the remaining soybean and take out the soy milk from it.
Finally hold the cheesecloth from all corners, lift it from the colander and squeeze to drain out any leftover soy milk.
How to make tofu from Gypsum?
Pour the freshly made soymilk in a large stockpot and let it simmer for about 10 minutes. Simmer on low or medium heat only.
Remove the stockpot from the flame and let it cool.
Dissolve 3 tablespoon of gypsum in 6 tablespoon of water and heat the mixture in a microwave for just 1 min.
Add this gypsum solution to the boiled and cooled soy milk when the temperature of the soy milk reaches 176 °F.
Keep stirring until the soy milk coagulates. Let the curd settle down and do not disturb it for about 10 minutes.
Whether you use a tofu mold or colander, lining it with cheesecloth is essential.
Use a spoon to take out the curd and keep it in a tofu mold or in a colander and place a weight on top for 15-20 minutes.
Tofu can be unwrapped immediately for use, so take it out and cook fresh tofu recipes.
If you want to store your tofu, keep it in cold water and cover the container. It should be stored in the refrigerator only.
Making tofu from gypsum enables one to enjoy fresh and nutritious tofu at home. So, if you haven't yet tried making tofu from gypsum at home, try today.
Image Courtesy: abetterbagofgroceries.com 
How To Make Tofu From Gypsum