5 Perfect Food And Beer Pairings
22 Nov 2010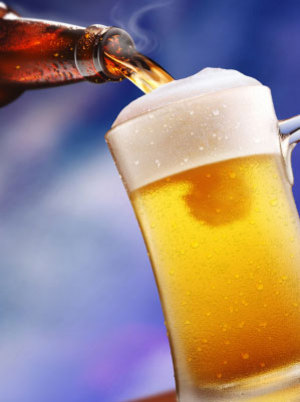 Beer, food and the deadly television! That is enough to keep my boyfriend happy. I really do have a tough time competing for his attention these three. But on the brighter side that is the inspiration for this post; five perfect pairings between food and beer. I am not a fancy food and beverage taster to recommend you something that might only be available in a store in Timbuctoo. This post is more like the people's choice of beer and food pairings.
1. Root beer with Vanilla Ice Cream
Ok, technically, this is not a beer because it officially has no alcohol in it. When I was a kid, my mom used to give me this, every time I caught a cold. Ofcourse, it was not chilled and did not have a Vanilla Ice cream topping on it. But now, my food indulgent boyfriend, adds his favorite lager to the root beer and ice cream to get a heady but delightful mix. And I kinda like it.
2. Foster's Lager with Tandoori Chicken Kebabs
There is nothing like Foster's lager with these bearably spicy Tandoori Chicken Kebabs. These kebabs have to be served with lemon wedges, mint chutney (Indian style) and raw onions. I now seem to have developed an acquired taste for the tangy, citric, spicy kebabs alongside the mild bitterness of the lager. My mom thinks that my tongue has turned into a man's tongue because I'm increasingly getting inclined towards bitter drinks.
3. Corona Extra with Beef Enchiladas
I did not pair this up just because they both are Mexican but they really do go well with each other. Besides 5 out of every 10 friends of mine seem to vouch for it. So, yeah, it is on the Number 3 spot.
4. Abita Strawberry Harvest with Fruit Cobbler
I love it, I love it, I love, love it. This is what I would love to have on a lazy, sunny Labor Day afternoon with loads of friends around. This fruit beer heightens the taste of the baked fruits in the cobbler and adds that extra little zing to your dessert. This also tastes good with pasta salads but I prefer it with the cobbler.
5. Chocolate Bock with Chocolate Dipped Strawberry
The interesting thing about the Chocolate Bock is that it not only has that chocolaty flavor but also has a certain fruity and spicy aroma to it. To most of my girlfriends, this is an orgasm served in a bottle. I couldn't agree with them more. This is a perfect, girly, dessert beer that goes well with anything chocolate. However, I recommend the strawberries dipped in chocolate.
Cheers!
Image Courtesy: stuffeducatedlatinoslike.wordpress.com
5 Perfect Food And Beer Pairings