How To Make Snow cone Flavorings

31 Oct 2010
It might not be snowing outside with the weather playing the unpredictable, unwilling to dance to the tunes of your mood – seeking the snow and ice. But you can create your own icy splendor with snow cones by learning about how to make snow cone flavorings to chill out the way you wish to.

Snow cone syrups or flavorings add that extra 'chill' factor with a fruity or a zesty flavor in colors, which would take you by a 'snow storm'.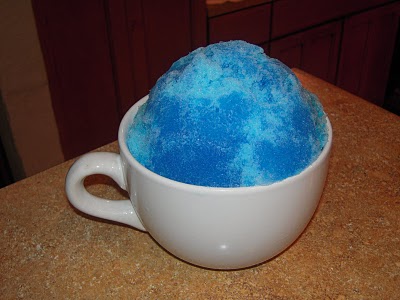 So how to make snow cone flavorings?

Let us first learn to make snow cone syrups.

The ingredients required to make snow cone syrups are:

•    Corn syrup

•    Kool aid powder

•    Water

•    Sugar
Procedure :

•    For one cup of corn syrup add about half a packet of kool aid powder.

•    Mix the mixture in sufficient water, till it becomes thick.

•    Add sugar or kool aid powder as according to taste.

•    Add the flavor of your choice which is usually be available as extracts (fruit – cherries, coconuts or berries). A drop or two of the extract for this measurement will suffice.

•    Bring the mixture to a boil.

•    Allow it to cool at room temperature.  

•    Transfer it into suitable containers and refrigerate.
The flavoring is now ready to top up shaved ice or snow cones.

Now that you know how to make snow cone flavorings , here are a few  snow cone syrups(flavors) that you can make your pick from  :-

•    Tsunami : If you ever want to get splashed in the Tsunamic effect of a mighty cold wave, the ever popular Tsunami typically defines the essence of how to make snow cone flavorings with a cold splash of the lemon-e lime flavor.

•    Cherry Cola: The classic old-timer cherry cola topping snow cones ever since, is still a delight in its shades of light brown.

•    Hawaiian : A mélange of fruity flavors, the snow cone syrup is just what you would love and get swayed by the gentle Hawaiian breeze.

•    Pina colada : A cocktail in a snow-cone? This is no mock-tale as you unravel on how to make snow cone flavorings, with Pina colado syrup on your snow cone.

•    Banana : If you want to savor the taste of a banana popsicle, the banana snow cone syrups is just the right flavoring for your snow cone.

•    Black Cherry : The fulsome redness of the cherry fruit is tantalizing(with its deep red color ) if you squeeze out the flavor in one snow cone, black cherry flavoring just does that.

•    Kiwi : Enjoy the fresh ripeness of kiwi fruits  as this green snow cone flavoring syrups simply delights your senses for indulging in frozen fruity pleasure.

•    Orange-pineapple: Oranges and Pineapples join as one, to make your snow cone so much fun, making snow cone flavoring syrup in  a blend of twin-delights, in bright orange- is there a better way to chill out?

•    Polar Punch : The cold blast from the arctic here where you see the 'blue of ice' frozen as a snow once flavoring whipping your face like the wild west wind

•    Pink lemonade :  A tinge of tartness with the flavor of a lemonade, the pink-colored snow cone syrup is a 'pinky' treat.

•    Margarita : The taste of margarita minus the alcohol, and you have a snow cone topped with a topping drink, donned in bright green!

•    Spearmint : The cool flavor of mint conjoining with ice in a dark green color…how to make snow cone flavoring syrups couldn't have got chillier!
. These are just a few among the sea of flavors available for snow cone syrups so that when you are on the high of making snow cone flavorings, you don't feel 'frozen in time'.

 

Photo Courtesy : adamandcindykillebrew.blogspot.com
How To Make Snow Cone Flavorings