How To Prepare Meat Trays

28 Oct 2010
I was confident of being a great host, until my friend made me realize that I did not know how to prepare meat trays. In fact, this is one of those few things which every host needs to know when preparing for an easy and very quick party – a potluck, tea, or even a dinner party.
Preparing meat trays is fun and easy way to include some of the great meat dishes, some exotic side dishes and also condiments. Moreover, if you have regular guests dropping in at home or you prepare for parties very often, you have the opportunity of preparing meat trays in different sizes. So, you might be entertaining a big group or a small group, you can have meat trays for all occasions.
If you are wondering how to prepare meat trays, here are the steps which have been mentioned just for your convenience. You just need to arrange tray for meats, your own choice of selected cheeses and meats, your choice for various condiments and also your pick on the various side items.
Start the process of preparing the meat tray, by taking the various slices of meat and then rolling them up. You need to do this, by picking one slice at a time and remember that you should roll them in the shape of a tube. If you are doing this for the first time, it might seem to be a little tricky but with little practice and patience you will become an expert in rolling meat slices in the shape of a tube. You should use as many varieties of meat as you desire, so that your guests get the chance to taste all varieties of meat.
Once the meat slices have been rolled up well, you need to slowly start placing them on the tray. It is completely your choice on how you choose to place these meats on the tray. You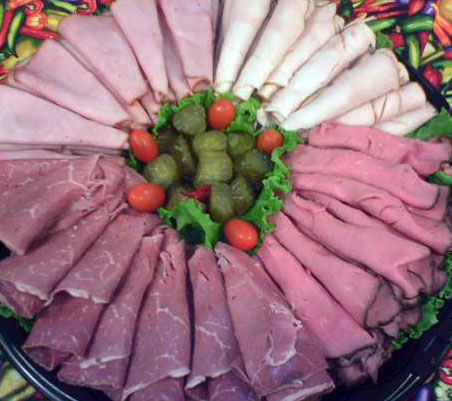 can place them variety wise for convenience in picking for your guests so that they get the opportunity of tasting every variety of meat you prepared for them. Remember to leave spaces between meat slices when you are serving more than one variety, so that it is not confusing for the guests and the tray too does not get messed up.
Now, you have to place all the condiments and toppings in between the various sections of the meat. You can include condiments such as pickles, cheese, tomato slices and lettuce to add to the taste. The tray needs to have sections in the order of  meat, condiments, meat and so on – you have to keep doing this, till the tray is completely full.
You are almost done now with the preparation of the meat tray. You just have to make a small circle in the central part of the tray. You need to place a delicious side item, such as a potato salad and pasta at the central part of the tray. You need to also include meat salad such as delicious ham, chicken or even tuna salad. 
Image credits - oldtownmarket.net 
How To Prepare Meat Trays