How to Make Sugar Paste Roses
22 Oct 2010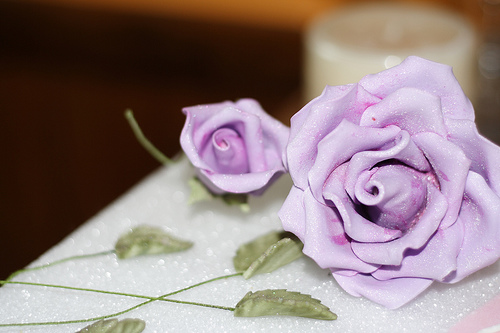 If you want to make floral decorations on your cake, learn how to make sugar paste roses. Once you discover how to make sugar paste roses, you can add a more creative touch to your cake and make it visually more appealing. Sugar paste, also called gum paste, sugar gum or pastillage is basically an edible dough that's prepared with sugar. This dough is very popular in cake decoration as it makes the decorations easy to make, can be easily molded to any shape and the decorations made from it are sturdy enough. Once you have learnt the ways on how to make sugar paste roses, you can make lovely decorations on birthday cakes, cupcakes and various other confectioneries. 
Instructions for making roses out of sugar paste
Things needed
For making roses out of sugar paste, you will need sugar paste, rolling pin, food coloring of your choice, solid vegetable shortening, sugar paste tulip cutters, toothpick, medium ball tool, cornstarch, foam square, adhesive and waxed paper.
Steps on how to make sugar paste roses
1. Begin by mixing food coloring to the sugar paste and kneading the dough smooth till the color has blended uniformly. 
2. Place the colored sugar paste on the waxed paper layered with vegetable shortening and roll out the paste with the rolling pin until it is half an inch in thickness. Now, give the paste a quarter turn and roll it again and repeat the steps till the paste is rolled out to a thickness of 1/16th of an inch.
3. Now, roll out a 5/8 inches gum paste and give it a teardrop shape, measuring 1 1/4 inches in length. Next, insert an adhesive dipped toothpick at the base of the teardrop shape or bud and give it 48 hours to dry.
4. With the help of the tulip petal cutter, cut out petals from the 1/16 inches thick paste for 20 roses.
5. Place the petals on the foam square covered with cornstarch and with the help of a medium ball tool, soften the top edge of the petals. Then, brush their back with adhesive and wrap them around the base of the bud. Elongate and widen some petals with a toothpick or modeling stick for the perfect rose look and curl up their edges outwards. Your sugar paste roses are ready!
Picture Source:anniesartbook.com
How To Make Sugar Paste Roses