How To Grow Onions In Less Space
12 Oct 2010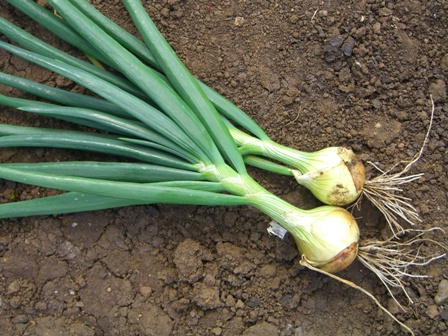 If you love to eat home grown vegetables but have not been able to due to space contraints, then worry not. For here are some tips to effectively grow onions in confined spaces.
Growing onions can be challenging only if you end up choosing wrong variety of crop for cultivation. Unlike the open spaces you need to judge, which variety can thrive in the container environment.  Mostly bunching onion varieties grow well in containers.  They need little stripping and have white stalks, and they mature within 60-120 days. Another onion variety that grows well in container is Crystal White Wax Onion.  Also known as pickle onion this variety matures between 70-90days.  Don't choose Egyptian walking onions because it needs lots of space, if you wish to root its bulbs in multipliers.
Most of the onion cultivators find it difficult to harvest and nurture the crop against bad atmospheric conditions. It needs 6-7 hours of sunlight for the green onions to grow properly. Shady conditions may slow down the growth process of the plants, so you can supplement artificial lighting through florescent bulbs. You can easily tuck in 5-6 plants in a one gallon container.
Onion seeds should be planted in nutrient rich soil (pH ranges vary according to the chosen variety) at a depth of one inch and another inch space should be maintained between the individual seeds.  You can perhaps take help of experts from local plant nursery for preparing the soil. Along with weather, variety and watering conditions, nutrient rich soil also contributes to the onion crop. Generally it takes about a week for the seeds to germinate.  While growing onion through seeds, you should stagger the planting schedule to ensure a year around supply of fresh specimens. All the plants should be dried and stored immediately after the harvest. It is always advisable to harvest onions when tops become yellow and become weak.  Use fork to pick onions from ground because if the skins damage then there are chances that onions may decay.
Spatial consideration is a major problem with container gardening, especially in case of onion.  Even if you are choosing varieties that take up little space then also there are the chances that due to large bulbs the other onions may face spatial congestions. It is always better to limit the growth to 3-4 plants per 5 gallon container in case of the varieties that produce large bulbs. Also don't forget to leave three inches of unencumbered soil between these seeds.
Choose proper containers that allow drainage options. Onion crops need regular watering and if you have not watered the soil for long time, then there are the chances that soil might have hard time holding on the water. In some cases the lack of water for some periods helps in increasing the flavor of healthy onion bulbs. Try to water onions regularly, atleast twice a week.
You can preserve these onions by drying them. The onions should be dried in bunches by hanging.
By now, you might have surely discarded the doubts about being able to grow onions in confined spaces. So wait no more and get your gardening gloves ready!!
Image courtesy: cdn-write.demandstudios.com 
How To Grow Onions In Less Space