How to make caramel corn? – Corn with a Caramel Coat

6 Sep 2010
'Pop' goes the corn, and there you have a bowl or a paper cone to fill up with the irresistible pop corns.  Pop corns, which have seen many a tale unfold on the silver screen, or a blossoming relationship, or simply to while away your time(by plopping down on the sofa)… pop corns offer more to crunch. And the caramel flavor couldn't be less tantalizing. So, how to make caramel corn, to eat with relish in the comfort of your home?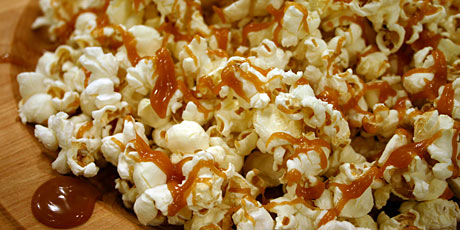 The ingredients you will require to make the caramel popcorn are :
•    Popcorn kernels
•    Butter
•    Corn syrup
•    Brown sugar
•    Nuts (if desired)
Procedure for popcorns :
•    To make the popcorns, preheat the oven at about 300 degrees Fahrenheit.
•    Take the kernels and put it in the air-popper to make the popcorns.
•    If you want to give your caramel popcorn a nutty flavor, then mix the popcorns with nuts.
Procedure for making caramel :
•    Take a saucepan and put it on low-heat. Pour some butter(1/3/rd cup), brown sugar(1/2 cup) and light corn syrup (1/4 th cup), along with a bit of salt, in the sauce pan and stir it on high-flame. The ingredients have to be proportionately increased or decreased, depending upon the quantity of popcorn made. The measurement is for 8 cups of popcorn.
•    Keep the mixture on high-flame for about two minutes, till it comes to a boil, stirring continuously.
How to make caramel corn ?
•    Add this liquid(the caramel prepared) mixture to your bowl of popcorns, by gently turning over the popcorns with a spoon, so that the mixture coats all the corns, as you want  to make caramel corns , which have the taste of caramel in uniformity.
•    Take a cookie sheet or baking sheet and spray it with the cooking spray.
•    Spread the popcorns on the tray and bake it in the oven for 15 minutes, by stirring it now and then to ensure that all the caramel corns get baked.
•    Once the baking process is over, remove the tray of corns and toss and turn it one last time.
Your caramel corn is now ready to be snacked. Take in a crunch and revel in the delight of knowing how to make caramel corn at home!
Photo Courtesy : http://www.squidoo.com
How To Make Caramel Corn? – Corn With A Caramel Coat