How To Butcher Deer Hind Quarter

31 Jul 2010
Recently my husband surprised me by bringing home venison – it was a great change from the everyday pork or chicken. I was glad that I knew how to butcher deer hind quarter or would have been in real trouble that day. Deer hind quarter is known as venison and is one of the most loved sections of deer meat. This part is quite lean and is used in many wonderful recipes. My friends wanted to know the steps I followed while butchering deer hind quarter, after they came to know that I did it all by myself … so here goes the process.
You need the following:
• Knife and hack saw
• Cloth, a masking tape and a pen
• Work table
• Butchers paper
• Container
• Pen
Preparations:
• You need to check if you have a sharpened knife for the process.
• Keep a rag near you for cleaning the knife and another one for wiping away any small pieces of bone or meat which you might mess up.
• Ensure that your chosen container is clean so that you can toss the meat.
Step one: You have to lay the deer hindquarter on the table.  Ensure that you can see the skinned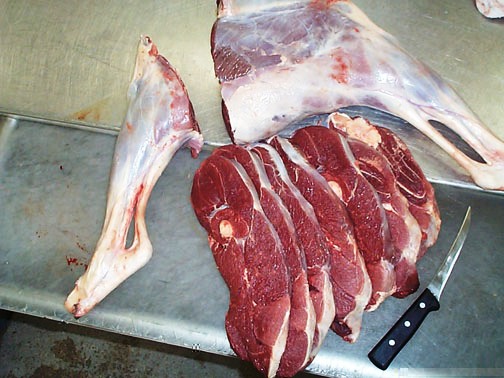 carcass of the deer with its 2 legs.
Step two: Start by cutting it in half…by cutting down from the backbone.
Step three: Use your knife so that you can cut the meat and get the bone.
Step four: When you are able to reach the bone, cut it with the help of your hacksaw.
Step five: Keep one leg away when you are cutting the other.
Step six: Ensure tat you are making the cut from the tailbone which is diagonally near the bottom edge of its hindquarter. You have to slowly make cuts down under the spine section and then move to its front section. This is where you shall get some excellent tenderloin cuts and sirloin.
Step seven: Use your knife to separate the rump and spine. You can use this piece for rump roast. Make small cuts which can be used for grinding purpose or stew making.
Now you can check the other leg portion:
• Cut the thick section of the meat in the leg which surrounds it meat. Make a straight cut. Keep wiping away small pieces of bones and meat which scatter.
• You can use your knife to make small cuts but for tougher sections you can use your hacksaw.
• Bone out its shank slowly.
• Cut the other sections of the meat as you have done in the previous steps.
If you follow these entire steps one by one, butchering deer hind will be easy and comfortable. Moreover, you don't have to feel scared about messing your kitchen.
Image courtesy: wisconsinrivermeats ;  lh6.ggpht
How To Butcher Deer Hind Quarter