How to make deep dish pizza crust crispy
28 Jul 2010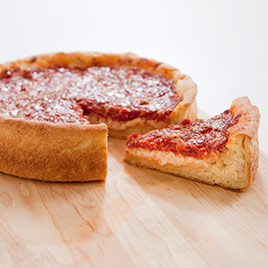 Unlike other pizzas, deep dish pizza is 3/4th part curst and just ¼ part topping, making the crust the focal point of the pizza. The world is divided between those who like a doughy crust and those who like it crisp, attaining a doughy texture in a deep dish pizza is easy but to make the deep dish pizza crust crispy can at times be tricky. If not made properly the pizza crust can turn very greasy, chewy, or burnt. But no need to worry for I am going to share some real easy tips to make your very own juicy yet crispy deep dish pizza crust:
To begin with you can either choose to make the pizza crust from scratch or buy a ready-made deep dish pizza crust. I prefer to start right from the dough making process. To make the dough, mix 3 ½ cups of refined flour with activated yeast (1 packet should be enough), ¼ cup olive oil, 1 tsp salt, ¼ cup cornmeal, and 1 mashed potato (the potato will add moisture and body to the crust). Work up the ingredients to form soft dough and set it in a warm spot till it doubles in volume. Nicely grease a deep dish pan with olive oil; avoid cooking spray, the oil will make the dough caramelize and add to the crispiness of the dough. Press the dough evenly over the deep dish pan and let the dough rise for 10 mins more. Press the dough again till it is even at the bottom and the sides.
Now to make your deep dish pizza crust crisp, brush the dough or the readymade pizza crust with olive oil and pre-cook the crust in a preheated oven at 450oF for 15mins or till the crust is just slightly crisped and browned. It should be 25% cooked. This step will not only make the crust crispier but prevent the sauces from turning the crust soggy. To further protect the crust from getting soggy top the pizza with a thin layer of cheese, and smear the sauce above the cheese. Also baking the pizza at a higher temperature (460oF) will give you the crispiest pizza crust.
So this is how you ensure you make your deep dish pizza crust crispy, juicy and flavorful. You can find some exciting deep dish pizza recipes on iFood.
Image credits: google.com
How To Make Deep Dish Pizza Crust Crispy