How to Make Dry Rib Rub?
Though July 4th has come and gone the outdoor barbecue craze is here to stay for a few more days. There are a number of things that makes a barbecue a success, but the quintessential factor is the quality of the rib rub. Personally I prefer dry rib rub and as a beginner at barbecuing I really enjoy trying out all the different dry rib rub recipes. Here is how to make dry rib rub at home: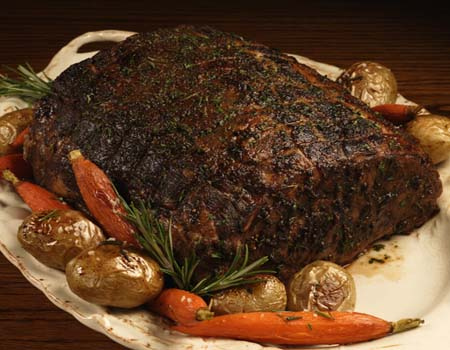 Types of Dry Rib Rubs
There are a variety of dry rib rubs that you can choose from. Some rib rubs will be sweet, some spicy, some savory and some a combination of any of the above flavors. Most of the Rib Rubs like the Kansas City Rib that is sweet and the Memphis Style Rib that is spicy reflects the preferred tastes of regions where they were developed.  Once you get comfortable with making dry rib rubs from various ingredients you will be able to cook up an original rib rub that suits your own tastes. But first let us get the basics of making a dry rib rub right.
First put all the ingredients together in a food processor or blender and blend until well mixed.
If you are going to use the rib rub a little later then store it in an airtight container. The best choice would be a spice bottle with a shaker top as it makes it easy to sprinkle it on the meat. Usually you can store the dry rub for close to 6 months at room temperature.
Rub the dry rib rub on to the meat you are going to barbecue.
Salty Rib Rubs - No matter what others say you can use salt in your dry rib rub, it draws in the flavor of the rub into the meat. Salt, especially a sprinkling of it does not dry out the meat or prevent it from browning.
Sugary Rib Rubs - The rib rubs that use sugar will need a little moisture which they will retrieve from the meat itself. The syrupy liquid that forms on the meat surface helps to hold together the spices in place. Even though there is a mixture of sugar and other spices in most sweet dry rib rubs it should be remembered that sugar will burn at 265 degree F. Therefore be careful when you barbecue the meat if you don't want the sugar to burn. You can cook at high temperatures but only for some time. So cook your meat on the grill or smoker and increase the temperature only to caramelize the sugar at the end.
Leave the meat in the refrigerator for about an hour. This will help the flavors to seep into the meat.
Now barbecue the meat keeping in mind the instructions given about cooking rib rubs that have sugar.
Here are some interesting Dry Rib Rub recipes for you:
Spicy Dry Rib RUb

2 tbsp. paprika
2 tbsp. light brown sugar
2 tbsp. salt
1 tsp. ground red pepper
1 tsp. dry mustard
1 bay leaf
A Sweet Dry Rib Rub
2 tbsp. Brown Sugar
1 tbsp. Sugar
1 tbsp. Ground Allspice
1 tbsp. Ground Ginger
1 tsp. Salt
1 tsp. Ground Cumin
1 tsp. Ground Red Pepper
1 tsp. Ground Black Pepper
Image Credit
How To Make Dry Rib Rub?