How Do I Grill A Turkey Leg

16 Jul 2010
Just before leaving for Christmas vacation I asked mom this – How do I grill a turkey leg? My mom is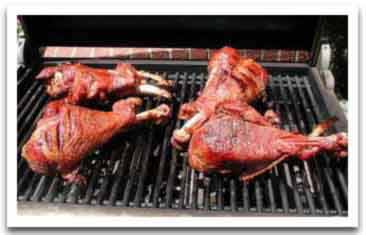 an expert cook and the most interesting part is that she can do things in the easiest possible way and very quickly. Grilling turkey leg needs the following ingredients.
• Turkey legs
• Brine solution – made of ¼ cup brown sugar, 4 quarts water, 1 cup sea salt.
• Salt, pepper for taste
You will have to make a basting mixture with the following:
• Honey
• BBQ sauce
• Red wine vinegar
• Salt for taste
Here is how you will do it:
Step one: You have to prepare brine solution.
Step two: Divide all the ingredients in half so that you can use them in batches. You will need enough ingredients to cover up turkey drumsticks.
Step three: Take a large container and pour your brine solution over the turkey drumsticks. This will ensure that all drumsticks are covered.
Step four: Refrigerate it for 24 hours.
Step five: Now, you can remove the leg and pat it dry.
Step six. Rub the turkey leg with olive oil and season it with salt and black pepper.
Step seven: You can ready your grill for an indirect heating process.
Step eight: Carefully prepare the basting mixture and mix it well with honey and other ingredients with the turkey leg.
Step nine: You have to grill all the turkey legs by keeping the grill lid closed.
Step ten: You should keep basting often so that you get a rich caramelized glazed.
Step eleven: You should keep turning the drumsticks time and again so that they cook well.
Step twelve: It will take you around 30 minutes to cook the legs on moderate heat.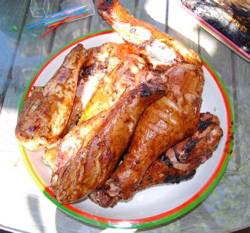 Step thirteen: When you find the legs are cooked, you can cover them up with foil and keep them aside.
Serve with lemon widges.
Image courtesy: divinedinnerparty ; firepit-and-grilling
How Do I Grill A Turkey Leg