How to Make Crispy Belgian Waffles with Yeast

12 Jul 2010
First showcased in the US in 1958 and a popular breakfast choice since 1964, Belgian waffles are light and easy on the taste buds. Different from the American variety which uses baking powder; Belgian waffles are made from yeast. If you haven't introduced them to your breakfast table yet, here's a quick guide to making crispy Belgian waffles with yeast.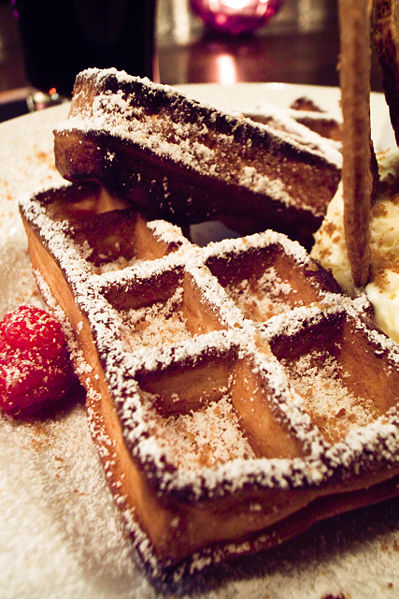 What You Need
¼ oz. (8 grams) dry yeast
3 cups warm milk
3 eggs
¾ cup melted butter
½ cup white sugar
1½ teaspoons salt
2 teaspoons vanilla extract
4 cups flour
Step 1: Take a small bowl and dissolve the yeast in ¼ cup warm milk. Let the mixture stand for about 10 minutes, till it turns creamy.
Step 2: Take a large bowl, whisk together 4 egg yolks, ¼ cup warm milk and the melted butter.
Step 3: Pour the yeast mixture into the bowl, stirring while doing so. Add sugar, salt and the vanilla extract.
Step 4: Stir in the remaining milk and the flour, adding small portions alternatively. End with the flour.
Step 5: Take the leftover egg whites and beat them till they form soft peaks.
Step 6: Fold the egg white into the batter and cover the bowl with shrink wrap. Leave the mixture for about one hour till it doubles in volume.
Step 7: While the mixture stands, preheat the waffle iron.
Step 8: Lightly brush the waffle iron with oil and pour ½ cup of the batter onto the iron.
Step 9: Let it bake till the iron stops steaming and the waffle turns golden brown.
Step 10: Remove the waffle from the iron and serve immediately.
Your hot Belgian waffles are ready. Just pour some maple syrup over the waffles or add some whip cream, and you're ready to go.
Image courtesy: google.com
How To Make Crispy Belgian Waffles With Yeast