How Do You Grill Shrimp

11 Jul 2010
How do you grill shrimp? Does your smoke of shrimp grilling bring out its taste? If not – you probably are not doing it in the right way. Grilling shrimp is easy but for getting that loved grilled shrimp taste and flavour you need to keep a few things in mind. I learnt to grill shrimps from my Mom. On the request from all my friends – here, I am sharing the recipe with all you guys. Hope you like it.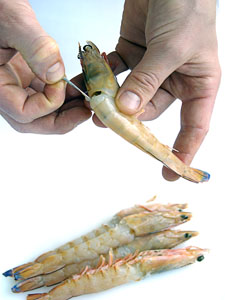 Step one: Start the process by cleaning the shrimps very well. You have to de-vein the shrimps and remove their shells before you move ahead.
Step two: You should soak the wooden skewers for around 40 minutes or else they will burn on the grill when you are cooking.
Step three: Take each shrimp slowly and skewer them. You need to do this first through its tail and then its head. You will find that three to four fishes can easily fit into one skewer. If you wish you can put just two shrimps in one – if your shrimps are large enough.
Step four: You should put shrimps in the top part of the skewer. Leave the lower part to be used as the handle – this shall make it convenient for you.
Step five: You can marinate your shrimps once they have been skewered. If you are not too keen on marinating simply add some olive oil, salt, pepper, chilli, soy sauce, hot sauce, garlic and some herbs for added taste. Ensure that all the shrimps are well coated before you proceed further.
Step six: Oil the grill well.
Step seven: Place all the shrimps on direct heat for about 2 minutes. After two minutes turn the other side and let it get the heat for 25-30 seconds.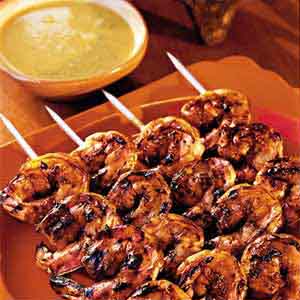 Step eight: Check if the shrimp is done. You are ready to serve them now.
Image credits: chefspencil. beacononlinephotogallery
How Do You Grill Shrimp