How Do You Broil Steak Tips For Your Next Party

4 Jul 2010
Steak tips are a regular dish in our parties – my friends just love the way I cook them. They often ask me 'how do you broil steak tips'? This post is for all my friends who love my steak tips – now, it's their turn to learn the recipe and give me a treat!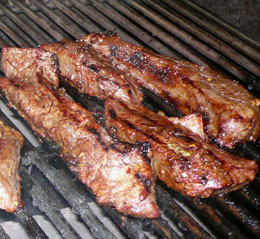 Well! Broiling steak tips is not at all difficult – most of us go wrong because we do not purchase the right kind of steaks. Look for steak which is quarter thick or is of a thickness which is less than an inch. If it is too thick there are chances of it getting burnt.
Marinating the steak:  This is an important part – you will have to soak the beef in vinegar and salt along with other combination of acids which you wish to add, to bring in favorite taste. Do not forget to refrigerate it for half an hour for the favors to seep in.
Set the oven to 'broil':  You will have to preheat your oven before you start broiling it. Do not forget to grease the pan with some cooking spray (otherwise you will have a tough time later on). When your pan is ready, you can slowly place the steak on it. Let the extra marinade slowly drain out.
Cooking time: This can vary and is normally dependant on the cuts you have given to the steak. It is also dependant on how your broiler runs and also the type of oven you use. Cooking time usually ranges between 4-15 minutes.
Testing the steak: You should always check so that steak tips never get overcooked. Have a look at the edges of the steak – the change in color will let you know about the cooking. You can also make a small pinch to find out the fleshiness.
When you are assured that steak tips are completely cooked, remove them from the heat; let them rest for a while before you serve them.
Image couresty:  wingerz.com/.../uploads; www.parentsconnect.com/editorial
How Do You Broil Steak Tips For Your Next Party