How to Broil Steak in the Oven
3 Jul 2010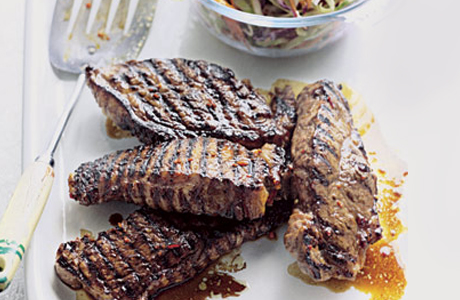 This article will be a great help if you want to learn how to broil steak in the oven. Steaks taste best when they are perfectly cooked. After grilling, broiling steak in oven is second beast method of preparing delicious steaks at home. You may experiment with seasonings here. In case the meat remains undercooked, it may be returned to the broiler easily.
1.    Place the steaks on a plate and let them rest for approximately 15 minutes before you start cooking them. Rinse the steaks with running water. Use paper towels to pat dry them thoroughly.

2.    Put the empty broiler pan beneath the broiler. Pre-heat the broiler by turning it on high setting for about 10 minutes.

3.    Season the meat on both sides. Since, salt takes away moisture from the meat, use garlic, onion powder and pepper to season the steaks.

4.    In order to retain the juices sear the steaks using a stove-stop skillet. When the skillet is hot add very little olive oil and a pat of butter to it. Allow the steaks to lie undisturbed for at least 1 minute on each side.

5.    You should then take the hot boiler pan out of the oven and arrange the cooked steaks side by side in the middle of the pan. Keep the steaks at least 3 inches away from the flame of the broiler.    6.    Broil the steaks till the time they are cooked desirably. For rare, cook them around 3-4 minutes while for medium rare cook them for about 5-6 minutes.  
7.    Adjust the cooking time accordingly. When the steaks are completely prepared allow them to rest for 5 minutes so that their juices are redistributed.(image credits: www.dailyyummy.com)
How To Broil Steak In The Oven