How to Sauté Vegetables for Lasagna
18 Jun 2010
To prepare a classic dish of lasagna one must treat every ingredient, including the basic onions and garlic with utmost care and attention. Today, I will share some tips on how to sauté vegetables to prepare the perfect lasagna.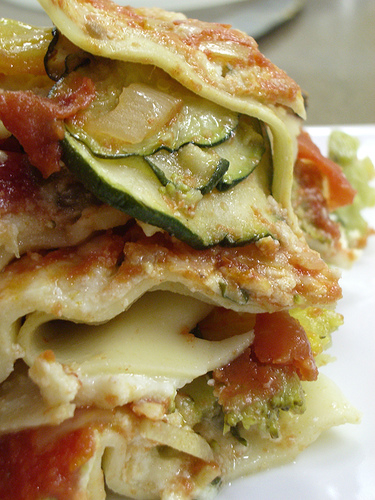 • Sautéing is an art, which involves cooking the vegetables on high flame. Through this technique the vegetables get a tender texture while retaining their color and flavors.  
• Prepare your vegetables well before sautéing. Wash vegetables in cold water and pat dry, this allows the veggies to retain their natural crunchiness.
• Cut the vegetables in small bite size pieces, this helps them get cooked faster and enhances their flavors.
• Choose cooking oil with high smoking point and a non stick pan with a wide mouth and sloping sides.
• If using more than one vegetable, start with the hardest vegetable first. 
• Throughout the sautéing process keep stirring or tossing the vegetables to distribute fat and heat uniformly.
• DO NOT overcook the vegetables; onions should be just translucent and other vegetables should be slightly browned. Remember these vegetables will be further baked in the oven.
Follow these simple tips and you are ready to make wonderful oven-baked lasagna. Wondering which vegetables would go well with lasagna. You are limited only by your imagination. Use any and every vegetable available. However, try not to overcrowd your dish; limit to 2 or 3 vegetables only. 
You can find some amazing vegetable lasagna recipes on ifood.tv.
Photo Credits: google.com
How To Sauté Vegetables For Lasagna