Dosa, the pan cakes from South India

19 Apr 2010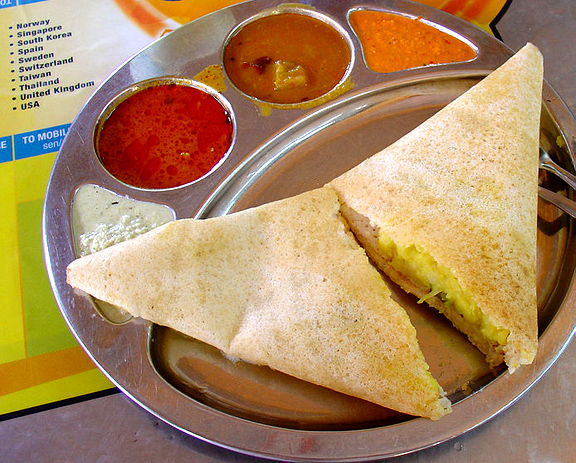 I love Dosas and Dosas and Dosas. Dosa is an easy to cook South Indian food eaten primarily for breakfast. 
I fell in love with Dosa when I was in South India for an academic course. Dosa - plain and simple, hot and crispy, umm! Hot and crispy dosa with spicy groundnut chutney - umm this is heavenly! My mouth just waters at the thought of the spicy groundnut chutney. I just love it and here I am going to share some of my experiments on dosa with you. 
How to make a dosa?
Get dosa batter from the market if you don't want to sweat in your kitcken. I did it in a real homemaker way, who believes in maintaining quality. I soaked rice (3cups), urad dal (black gram) (1cup) and fenugreek seeds (half a spoon) together in a container and left it overnight. I woke up early morning and grinded the stuff in a food processor to make a paste. I added water and salt to the batter to give it the right consistency and left it to ferment for more than 4 hours. For quick fermentation you may add half a spoon of curd.
After a 12 hour slow work, your batter is ready. Heat your pan and add a spoon of oil. Pour the batter and run a small bowl with the bottom on the batter in a circular manner. Move from centre to the side of the pan. Cook in a medium flame. When your dosa is done it does not stick to the pany anymore. Fold it into half and serve it hot with chutney or sambar. 
Anyways, I love to eat plain dosa with groundnut chutney.
How to make groundnut chutney?
Roast the groundnuts in a pre-heated pan without oil. Then grind the groundnuts along with clean, fresh coriander leaves, green chillies, a piece of garlic and a bit of tamarind. When the mixture is done, season it with curry leaves, mustard seeds and dry red chillies.
Caution:
A lady once advised in a step-by-step guide to flip dosa to cook both sides, which is ctually a wrong process. All self-proclaimed experts are not really EXPERTS. LOL.
Dosa, The Pan Cakes From South India