How To Bake Gluten Free Pancakes?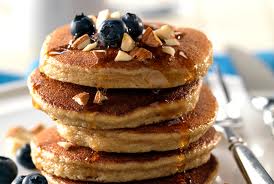 You can easily make gluten free pancakes. These are delicious, fluffy and light in nature. Pancakes are cooked on the first side until the batter begins to bubble and then turned over. You may use white or brown rice flour and even combine both. Flax seeds can be added to compensate for the fiber and nutrition. Read on for detailed steps to conjure up yummy gluten free pancakes for breakfast...
Steps to Make Gluten Free Pancakes
In a mixing bowl combine rice flour, baking soda, flax seeds, salt and potato starch.
Add in the vanilla, oil, beaten eggs, water,  and whisk well to get a smooth batter without lumps.
Take a skillet or a frying pan and add some butter. Heat.
Ladle some batter onto the pan and spread out into a circular pancake.
The batter soon begins to bubble, now flip it over gently.
Cook this side for about 2 to 3 minutes.
Pancakes are ready when they turn golden brown in color.
Transfer to a serving plate and top with choicest toppings like berries, honey etc.
Tapioca flour can also be used instead of rice flour. Add potato starch and buttermilk powder to this prior to mixing in the sugar substitute and baking soda. Watch the video to see how to make gluten free pancakes easily:
Gluten free baked pancakes are often served with maple syrup or jelly that is low in calories. Condiments can be added according to choice.
Image Credit - shannoncftx.wordpress.com/ ; phdstrides.com/ 
Video credit: youtube.com/ 
How To Bake Gluten Free Pancakes?