SUBWAY:" Really Eat Fresh or...not"
11 Jan 2007
Subway is the name of a multinational restaurant franchise that mainly sells sandwiches and salads. It was founded in 1965 by Fred De Luca and Peter Buck. The corporate name of Subway is Doctor's Associates, Inc. (DAI). The company has over 26,500 franchised units in 86 countries as of November 21, 2006 and is the fastest growing franchise in the world. Subway open more than 75 restaurants in India.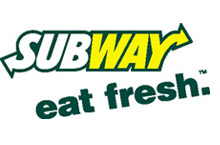 Subway uses the advertising slogan "Eat Fresh" to explain how every sandwich is made on freshly baked bread, using fresh ingredients, in front of the customer to their exact specification, by employees who Subway terms "sandwich artists".Subway employees prefer to be called "Sandwich Artists" because they believe that sandwiches need to be built skillfully, artistically, and quickly. During training, sandwich artists are told that each sandwich should be made within one and one half minutes.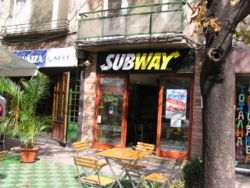 .Subway menus vary by store, by country and by state — in Muslim countries omitting ham and other pork coldcuts — but retain core items which are included at every store. The main food sold by the store is Submarine sandwiches, sold in Six-inch and Footlong sizes. All Subways offer customers lettuce, tomato, onions, green peppers, olives and pickles, as well as regionally selected toppings. Like other fast-food restaurants they offer limited time offers or LTO from time to time. In addition to their standard menu, Subway also offers catering for all types of occasions. They offer 3ft and 6ft subs while also offering a sandwich platter. These giant sandwiches can be ordered in bulk and to nearly any specification, something which Subway has promoted as a part of their campaign to personally tailor each and every sandwich to a customer's individual taste.
But Subway is  criticized by nutritionists, who claim that Subway sells 'trick food' and hides the fact that many of its food items contain high levels of calories, fooling customers by the "less than 6 grams of fat" signs commonly shown in ads or in stores worldwide. Many restaurant analysts attribute Subway's fast growth to the growing concern on health by restaurant customers, a trend that Subway has taken advantage of in its marketing .
SUBWAY:" Really Eat Fresh Or...not"