GOODWILL HUNTING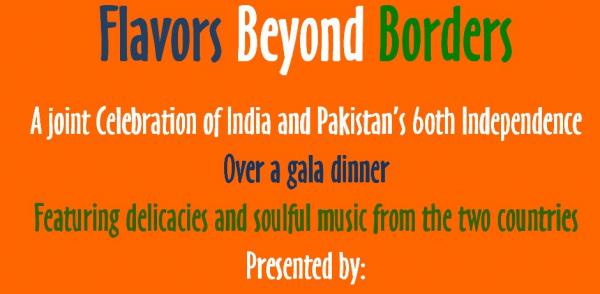 In order to film the man on the street and get his views on our "Flavors Beyond Borders" event, yesterday, Raavi and I went to The Gateway Of India, Mumbai to "hunt" for goodwill messages. The people were a bit hesitant to speak (mainly because they are camera shy) but we did get some on record.
There was an Arab Sheikh who in his limited English vocabulary said, "For me, India-Pakistan, same-same". A Swiss gentleman voiced his views on how we should forget our "past" and come "together". Of course, there were Indians who expressed their love for a lot of things Pakistani - from Adnan Sami and the late Nusrat Fateh Ali Khan Sahab's tunes to Wasim Akram's reverse swing and Shahid Afridi's sixes to Nihari and Boti Kabab.  
I was hoping to get views from the "other side" when I spotted a bunch of youngsters - characteristic handsome pathan features. Assuming them to be from across the border, I thought it would be interesting to hear what they had to say. I approached them but they refused to come on cam and carried on to Marine Drive. Seconds later, one of them returned. Excitedly, I put my cam on. He gestured to put it off and in a very cold tone, proceeded, "Aap mujhse Hindustan-Pakistan ke goodwill ke baare mein sawaal poochh rahe hain...Main pachchees saal ka hoon. Paanch saal ki umr mein hosh sambhala. Pichhle bees saal se ye maloom karne ki koshish kar raha hoon ki main kis mulk ka hoon - Hindustan ka ya Pakistan ka?" (You ask me to leave a Goodwill message? I am 25…and since I was 5 I've been searching for just one answer…What is my motherland…Where do I belong…Who am I…an Indian…or a Pakistani?)  
He was from kashmir. 
The look in his eyes…the expression in his voice - there was pain; there was a longing for acceptance, a need to belong. I so wanted to capture it. I requested him. He declined, "Aap agar Srinagar mein mujhse ye sawaal poochhte to main seena taan ke aapko jawaab deta...par Bombay mein nahin. Yahan to main bas apna naam batata hoon to log kahte hain - terrorist hai". (In Srinagar, Kashmir, I would have fearlessly voiced my opinion, but not in Bombay. Here, all I do is mention my name and I can almost hear people mutter, "Terrorist!".) 
God! I could only begin to imagine what people in Kashmir have been going through for all these decades. I had heard stories from classmates in School. One of them had an audio recording of gun-shots and shelling…he'd recorded it at home in Srinagar…the firing used to happen round the clock, right outside their house...they were that close to death! Another friend's entire family had to shift to the more peaceful Delhi. 
I realize, IFood is organizing a great event and I'm proud of being a part of it. No measure is too big if it can bring back peace in the valley and harmony between the two nations…nations that were always meant to be one, nations that were one. On our part, all we have to do is "Say Something Nice"! As Sharib very rightly puts it, every drop makes an ocean…every message could bring about a change.
Image Credit- kalhan.com
GOODWILL HUNTING