Old clothes for new utensils!
As a child, I was always intrigued by women who moved in the gullies with a bundle on their head, exchanging new utensils (usually of steel or aluminium) and plastic buckets, for old clothes. This sight is very common in small towns in India & is also seen in the suburbs of big cities like Mumbai.
The trader (usually a woman) would go from door to door, and try to take as many old clothes as possible in exchange for minimum utensils. The trading is usually done with the women of the households, and both parties require a lot of patience and a skill for bargaining, to have a satisfying deal. I've seen an old pair of faded denims or mom's 'once shimmering -now dull' sari or dad's shrunk sweater, make way for a shiny new 'stainless steel' katori or (if we managed a good deal), a kadhai! This was in Bihar, where poverty would compel people to take up this 'barter' trade.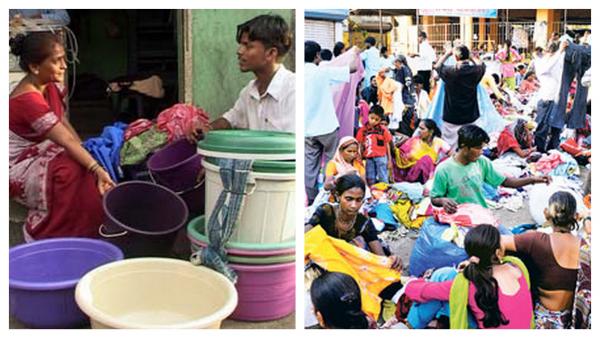 In metros like Mumbai, there's a certain community, the Vaghris or Waghris that practice this profession. They are originally from Kathiawad in Gujarat and have been in this trade for decades. The kids attend primary school, and once they know how to read and write they give it all up so that they can learn the tricks of the trade and start earning very early in life.Saris fetch the maximum- Rs 30 to Rs 40, and other clothes range from Rs 10 to Rs 20. Torn clothes don't sell. After collecting around 20-30 kg of clothes, the traders sell them to wholesale dealers on weight and exchange them for utensils that are in demand. The dealer sells these old clothes to hawkers, who wash and iron them and sell them at local weekly bazaars. Thus the cycle goes on.
Dealers in old clothes say that the used clothes market is not doing too well these days. The reasons being :
1. The price of old and used clothes has dropped so much that they no longer offer any attraction as a barter item for new utensils.
2. At times, there is an over-supply of goods. The dealers hold natural calamities responsible. A large part of clothes collected for victims enters the used clothes market. This came to notice especially after the tsunami. We would call this cheating but some of the NGOs involved in relief work say this practice was valid because there was a continuous overflow of donations and after a certain time large consignments of relief supplies had already reached the affected people. There was no other option.
I just hope the money earned by this practice is used precisely for what it was donated!
Pic : www.mumbaipulses.com
Old Clothes For New Utensils!