Medaglia d'Oro at its Best with Celebrity Chef Johnny Iuzzini
19 Nov 2012
Last week, a couple of us here at iFood.tv had the pleasure of dining with world renowned pastry chef, Johnny Iuzzini, and other VIPs at a luncheon sponsored by Medalgia d'Oro held at Kuleto's in San Francisco. Medaglia d'Oro is a coffee brand that has maintained the golden standard in Italian style espresso since 1924, having been rooted in tradition, quality, and coffee expertise for nearly 80 years. Not only has this company earned its place as a quality espresso for drinking, but it has become increasingly popular for use in baking and cooking as well. This is why Medaglia d'Oro is proud to be partnering with Italian-American celebrity chefs Antonia Lofaso (author of The Busy Mom's Cookbook) and Johnny Iuzzini (James Beard award-winning pastry chef and author of Dessert Four Play) for the launch of Medaglia d'Oro's newest espresso-based digital recipe book, Medalgia d'Oro Volume One. To get a taste of the incredible dishes that can be made with Medaglia d'Oro's espresso, we were presented with three different courses that included this as a focal ingredient in the dish.
As many of you foodies might know, espresso, or coffee in general, tend to act as flavor enhancers, therefore, the espresso itself may not be as detectable as you may think. Instead, it works to bring out the bold, unique, and sometimes powerful flavor notes of another ingredient. This was not only fun, but incredibly interesting (and tasty!) to experience firsthand.
For our first course, we enjoyed fresh ravioli pasta made with Medaglia d'Oro stuffed with butternut squash in a sage almond brown butter sauce. It is almost impossible to describe how delicious this dish was, but to do so in one word would be heavenly. The richness of the brown butter sauce combined with the toasted almonds was brought out by the use of the Medaglia d'Oro in the ravioli. Although you would have never guessed it was present, the impact it made on the overall flavor and feel of the dish was noitceable with each bite.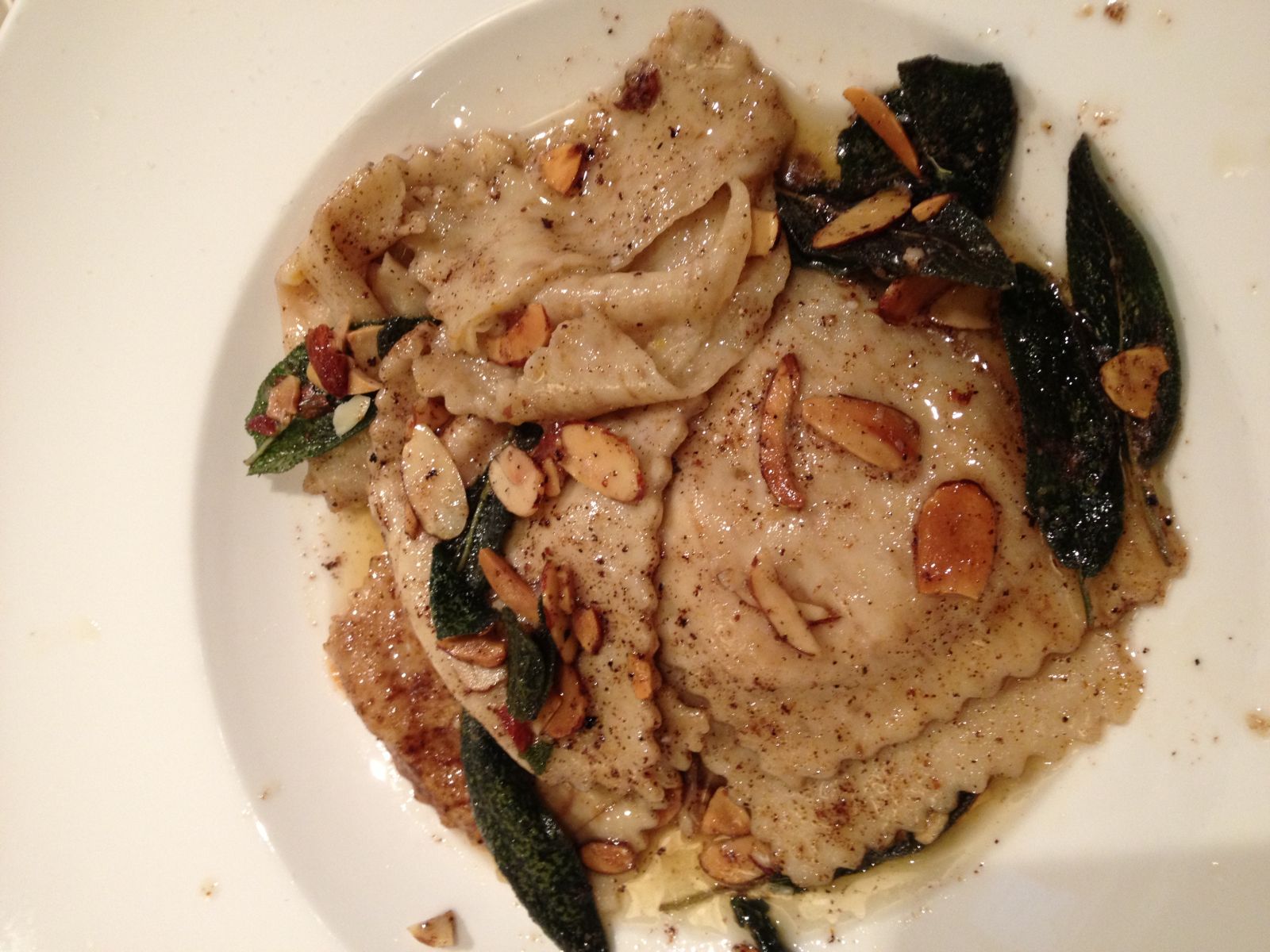 Next, we had the option of choosing between a grilled hanger steak rubbed with Medaglia d'Oro on roasted fingerling potatoes and wild arugula or Hawaiian ahi tuna grilled rare, rubbed with Medaglia d'Oro and served with Sausalito Springs watercress and apple panzanella. Most foodies would say that they have used coffee or espresso rubs before, so you can only imagine the flavors this brought out in the Ahi Tuna when it was combined with the balsamic glaze that adorned the plate. This combination of flavors created a sweet, aromatic taste that made this dish perfectly rich but not cloyingly sweet, which is the ideal balance, in our opinion, of sweet and savory.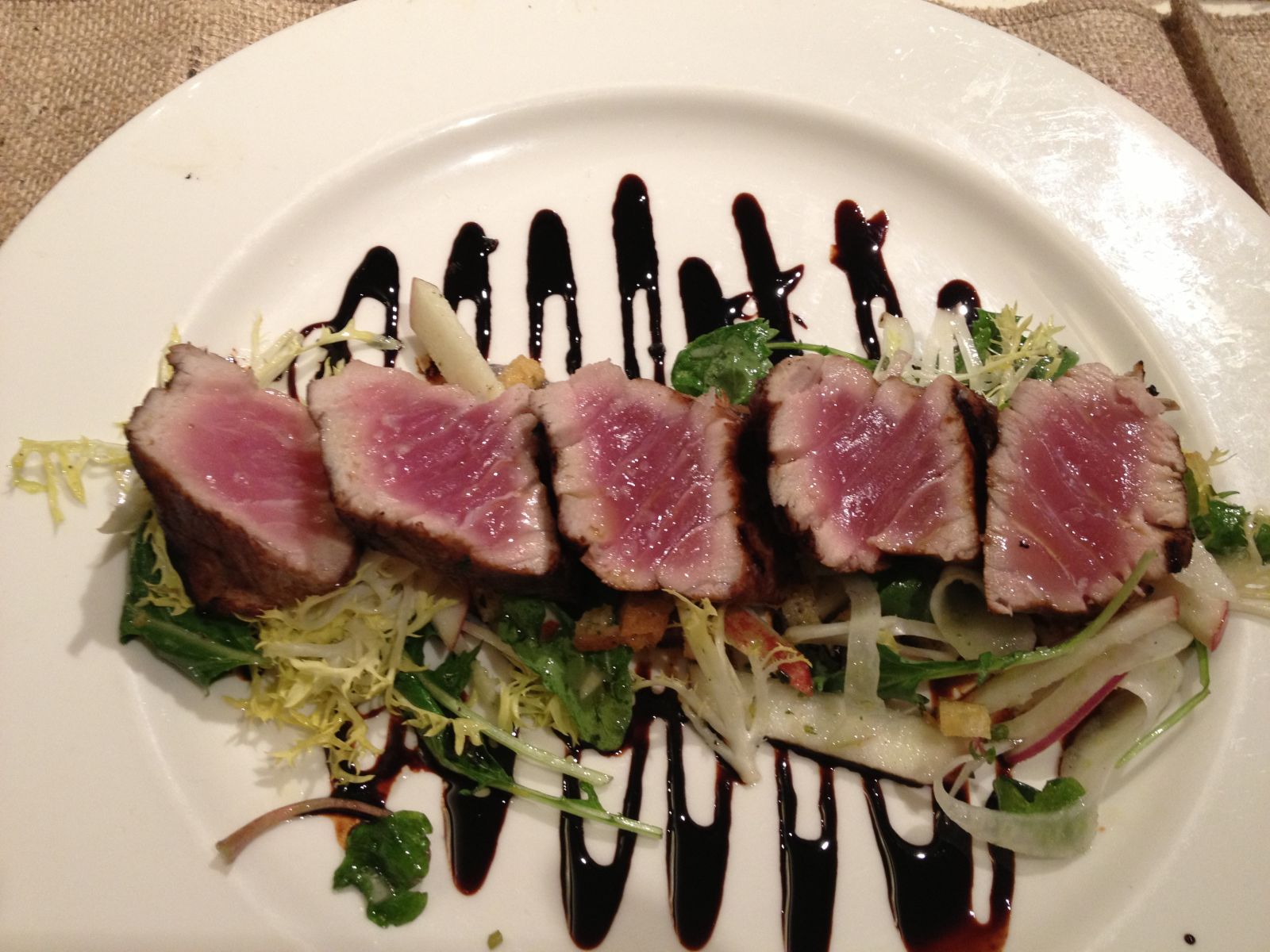 Finally, we finished lunch with a slice of tiramisu made with Medaglia d'Oro alongside options of espresso truffles, espresso chocolate, or petite mousse cups. You may notice something similar between each of these desserts, chocolate and espresso. Mind you, this was not a mistake! As many of us know, chocolate and espresso are truly a match made in heaven when it comes to pairing ingredients. Each works to bring out the best flavor qualities of the other, which is obvious when you savor each bite of these decadent, creamy desserts. Lets just say that by the time we left this luncheon, we wanted to start using Medaglio d'Oro in all of our favorite recipes!
Not only was the food great, but the company and intimate setting really made this experience a lot of fun. Johnny told us about his experiences as an Italian-American growing up in a big family with Medaglia d'Oro always having its presence in the household, whether it be as an empty can turned into a flower vase or a full can finding its way onto the shelf to be shared by everyone. He explained his adventures leading up to where he is today, including his discovery of his passion for pastry making, his biggest influences, and a couple life lessons he learned along the way (including his underestimation of the crossfit workout that has us nearly crying of laughter). Overall, it was an amazing experience getting to know a celebrity chef like Johnny Iuzzini on a more low-key, personal and food-related basis since not many of us get the opportunity to do something like that, to which we owe a big thank you to the Medaglio d'Oro brand and its representatives. Who knew that there were so many incredible dishes that could be made with espresso?! 
If you are interested in listening to our exclusive interview with Celebrity Chef, Johnny Iuzzini, please click here!
To read more about Johnny Iuzzini: http://johnnyiuzzini.com/bio/
To find out more about the Medaglio d'Oro brand visit: http://www.medagliadoro.com/index.aspx
…and be sure to keep an eye out for the Medaglia d'Oro Volume One recipe book debuting soon!
Medaglia D'Oro At Its Best With Celebrity Chef Johnny Iuzzini