How The Unofficial Mad Men Cookbook Came to Be
15 Nov 2011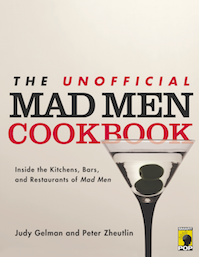 JUDY HAS WRITTEN two cookbooks pairing food with literature, so it wasn't a huge stretch to see why she was so curious about the food and drink seen in Mad Men. Just as authors use food and drink to establish time, place and mood, so do directors. Mad Men is justly renowned for its exquisite attention to period detail. If you grew up near New York in the 1960s, as we did, you know Mad Men, though filmed largely in Los Angeles, evokes 1960s Manhattan with arresting accuracy. Everything feels right about it: from the furniture and the narrow neckties to the restaurants and the food. It speaks volumes about Judy that while most female viewers were enjoying the cut of Don Draper's jib, she was trying to figure out, "what did Betty use to glaze that ham in her fridge?"
Judy was addicted to Mad Men for four seasons before she finally persuaded her husband Peter to watch. And then he was hooked. Peter agreed: it was like peeking into our parent's world with the benefit of adult perspective. The people in Mad Men may dress like the Cleavers and the Andersons, live in neat suburban homes like them and eat similar foods, too, but Mad Men serves up a much different, more complicated and cynical world than the one we thought we grew up in. Ward and June Cleaver never touched alcohol and there was never a hint they were unfaithful to each other, either.
Our goal was to create a cookbook with recipes for food and drink that appear in Mad Men and which were authentic to the times. And we wanted every recipe in our book had to tie in to a specific scene in Mad Men. Historical context was critical so viewers might better understand why the creators might have chosen these foods and these bars and restaurants to feature in the show. For example, why all the Mai Tais? The quick answer is that with the new addition of Hawaii to the Union, Americans were fascinated with Polynesian culture. Why the many French restaurants? Julia Child had just burst on the scene and was popularizing the French cusine detailed in her book Mastering the Art of French Cooking. And America's royalty, President and Mrs. Kennedy were so fond of French food, they hired a French chef as their White House chef. For Mad Men fans who are also foodies, we thought this kind of gastronomic history would enhance their appreciation of Mad Men and the pinpoint accuracy of its recreation of 1960s New York.
Our first step in creating The Unofficial Mad Men Cookbook was to note every item of food and every restaurant seen or mentioned in the first four seasons of Mad Men, from Spam to ham, from caviar to Chicken Kiev; from absinthe and crème de menthe to Canadian Club whisky and Smirnoff's vodka; from Keens Chophouse (now Keens Steakhouse) and the Forum of the Twelve Caesars (now defunct) to Barbetta and the Grand Central Oyster Bar.
Our next step was to obtain as many recipes as possible from restaurants, bars and hotels featured in the show that are still operating today. If the recipe had changed over the years, as it had, for example, for the Grand Central Oyster Bar's Oysters Rockefeller, we wanted the recipe for the version served in 1962. Sometimes a concoction we were looking for had long since been extinct. The Beverly Hills Hotel hasn't served a Royal Hawaiian cocktail in decades, but since Pete Campbell sips one poolside on a visit to L.A. we wanted the privilege of tasting one, too, and the Beverly Hills Hotel was able to oblige, though they had to dig deep to find the recipe.
Next we pored over hundreds of period cookbooks, magazines, and advertisements (after all, Mad Men is about the advertising industry), not only for recipes, but to learn about the dining and culinary trends of the era. We also looked for cookbooks the characters might have used, or those we saw on their kitchen counters. When Joan Harris (formerly Holloway) made that crown roast in her tiny kitchen to serve at a dinner party, we turned to The Small Kitchen Cookbook by Nina Mortellito (Walker and Company, 1964) for a recipe. When Pete Campbell asks his new wife to make rib eye in the pan, we thought a logical cookbook selection for Trudy cooking for her "ad man" would have been The Madison Avenue Cookbook by Alan Koehler (Holt, Rinehart and Winston, 1962). Then, of course, we tested and retested recipes to make sure they worked and that the result was, if not delicious, as least close.
As Mad Men's fifth season approaches, we look forward to renewing our pursuit inside the kitchens, bars, and restaurants of Mad Men.
— JUDY GELMAN AND PETER ZHEUTLIN
To purchase The Unofficial Mad Men Cookbook, visit UnofficialMadMenCookbook.com and Smartpopbooks.com. 
Check out the Unofficial Mad Men Cookbook Facebook page here!
How The Unofficial Mad Men Cookbook Came To Be