I have been trying hard looking hear and there and trying to please myself. But I just can't seem to find one good pasta salad recipe which is completely different from what I ahve had before. I am not saying that I have had all the kinds of the salad although I have made at least 10 different varieties. Again, I am not saying that there are only 10 differnt kinds.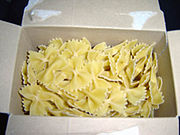 You are still reading??? Cool! So help me out here. I have a cook out to go to in 2 weeks. I have to take, you guessed it pasta salad with me. The thing is that I know those people and they have tasted my cooking. I want to surprise them with something out of the world recipe. I love it when you come back from a picnic and there is a phone or email message that so and so wants your recipe.
So everybody at ifood please share with me, a pasta salad out of this country.
I will definitely share my search. Please help me out here....