Freshly Picked Rhubarb From My Garden....
12 May 2011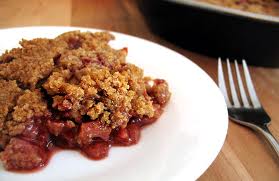 My son just walked in with fresh rhubarb from my organic garden, it is perfect for the picking. The tart, sweet taste of this wonderful nature's gift is so amazing at this time of year. Of course this means that I have to bake something to enjoy it at its best.....
Here is a great tasting rhubarb/berry crisp recipe that you can whip up in minutes...delicious...
Ingredients
4 cups washed and diced fresh rhubarb
2 cups fresh organic berry mixture
1 cup rolled oats ( quinoa flakes...gluten-free option)
1/2 cup organic flour (quinoa flour...gluten-free option)
1/4 cup sucanat
2 Tbsps pure maple syrup
5 Tbsps cold organic butter
Preparation
Preheat oven at 350 degrees.
Wash rhubarb stems and cut into small pieces. Place in baking dish.
Drizzle maple syrup over rhubarb. Add berries over top.
In separate bowl mix together oats, flour and sucanat. Add cut up butter pieces and using your hands mix together until a crumbled consistency.
Place this over the rhubarb mixture and place in oven for 1 hour (until browned).
And there you have it, instant healthy dessert. While it is still warm you can top it off with a nice spoonful of organic plain or vanilla yogurt....mmm.....
To view more of my healthy recipes please check out my website at the following link;
Enjoy!!!
The Health Nut!!
Freshly Picked Rhubarb From My Garden....