Fish Based T.V Series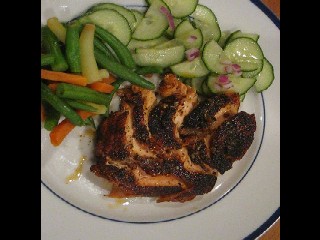 I was watching the channel "Discovery Travel and Living" the other day. Food related shows are definitely one that catch my attention. They are a great source of information about food in particular and of course not to mention the numerous wonderful recipes that I get to see and try. Last evening was what I call a "foodie evening" on the channel. This is one reason that I love Thursdays. There is nice program titled "Floyd's India" followed by "Indian Cooking made easy" with Anjum Anand hosting it.
 In Floyd's India, he chooses a destination each time and acquaints his audience with the cuisine of the particular place. He actually does cook some of the traditional or popular recipes. The first episode was on Rajasthan, a state in India. This week however, he decided to put up his tent at the popular tourist destination – Goa. A wonderful episode for seafood lovers. He cooked fish, crab and even mussels. A sweet coincidence or must I say a "fishy coincidence" that Anjum Anand too decided to have "fish" as her theme for the evening. She cooked delicious lime rice and served it with traditional Indian fish curry from the state of Maharashtra ( fish cooked in coconut milk and coriander). Couldn't resist it and so it's fish for lunch today and also my theme for the day.
Fishes offer so much variety. Each fish has its own distinct taste adding that little extra to the dish. So very easy to cook, a little marination and the right ingredients that make it one of the best dishes that you have ever cooked or had. The popularity of fish and chips, I guess does say it all. A high nutritional value, low in fat and being a rich source of omega 3 fatty acids makes fish a popular choice for a healthy menu. Fish is good for your heart.
It is definitely an important part of several cuisines whether Chinese, Thai, American, French or Indian. The style of cooking may differ from one cuisine to the other however, the final result of a tasty dish is the same whichever style of cooking or cuisine you decide to stick to. Fish with a salad and a slice of bread is a complete meal. Easy , quick and indeed delicious that's how it is.
Not many however, may be well-versed with buying and cooking fish. Here are a few tips while handling fish:
·         The smell and the looks of the fish are major indicators which would help you make the right decision while buying fish.
·         It should smell fresh. Stale smelling fish is definitely a no…no.
 ·         It must look appealing. Must look fresh and the skin must be firm. When you touch the skin it must be tight and not leave a depression on the surface. There must be no discoloration.
 ·         The eyes must be bright and red on the underneath.
·         Fish cook really fast and so do ensure that you do not end up overcooking it.
With a variety of ways to cook it, there sure is lot of scope for experimenting.
Fish Based T.V Series