Cakes G'lore
Decided to take a walk this morning…past two blocks and here I am… at my favorite corner. Standing here I experience the typical dilemma that an average person today undergoes on a daily basis. The "problem of choice" that's exactly what it is. It has come to us as a package deal with the huge number of options that are available today. On one hand, it makes life so cool and easy…just pick what you want and there's indeed so much to choose from, however on the other, I realize that I am forever debating between which to pick of two or more choices. This problem does hold true in all walks of life. Consumerism at its peak…guess that's what it is.
Coming back to my dilemma, choices between two cereals or anything at the supermarket is one that I like, however not here. A look at these delicate beautiful creations and my heart says "I want to take them all back home with me". They are all so amazing. Each one of them looks so inviting…and seems to me with an expectant look saying "pick me up".
One look at the beautiful one in pink and I say "Yes, that's the one for me". However, just looking around has made me realize that there are all lined up just for me to make a choice. I soon discover that there are several more dressed in white, yellow, brown and a variety of colors and all looking at me eagerly. A great visual treat however, has only added to my problems. As usual I just can't make up my mind and then wouldn't really want to either "I WANT THEM ALL". Don't know if I am the only one who would be in a difficult situation under such circumstances. Can you all actually take a firm decision given a similar situation?
My head and my heart wander through myriad thoughts and all this is only going in opposite directions. At last I decide that it's time to let my mouth take over and make the ultimate decision. Guys…guys…now don't get me wrong…please don't let your imagination go wild. Guess my thoughts have been taking me on a roller coaster ride. I guess all this standing and drooling at the wonderful pastries at the cake shop….strawberry, vanilla, butterscotch, chocolate and many more… is truly driving me crazy. The cakes, biscuits, chocolates oh la la!
A visit to the bakery is one that makes me all excited…guess it is to do with my strong sweet tooth. For me no meal is complete without a sweet ending. Have loved experimenting with baking …forever in search of interesting recipes that I could play around with. I love surfing the net to find mouthwatering recipes that I could try out. Here's is one yummy treat that made my day.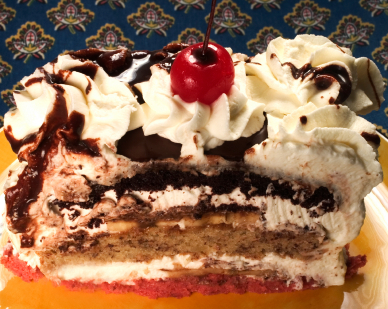 This banana split cake is an absolute delight and is an instant hit with kids too. Just right as dessert for your party.
I find baking a great stress buster and one that gives me scope to let my creative juices flow and have a ball. I enjoy substituting ingredients and giving it a nice personal touch. A look at the beautiful creation and Oh! I feel so proud of my culinary skills. I love the smile it brings to ones near and dear to me. Makes it all worth it.
One thing however, that I have learnt from my experiments is that baking is a true balancing act and the proportions have to be followed strictly in the recipe. You do have to follow instructions strictly or else you might end up with disasters like the cake not rising or one that rises quickly and falls flat the moment you take it out.
The ups and downs however, are all part of the game and the fun lies in experimenting and creating your own visual delight. For me now it is back to my kitchen to try out the latest recipe that I have got from a wonderful friend of mine. Happy Baking to all of you too!!
Cakes G'lore