Jamie Oliver Shares His Views On Fighting Obesity
22 Dec 2010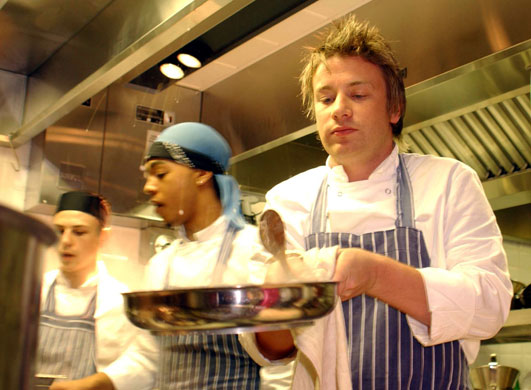 Jamie Oliver Shares His Views On Fighting Obesity! Yes, he shared his thoughts on Ted Talks. America needs Jamie Oliver more now than ever before. It is a pity that his plea to work with the school cafeterias in Los Angeles was rejected. In America, obesity is not a word. It is a hard pressed reality where every 2 out of 3 people are clinically obese. It is a fact that America spends more money on obesity related problems than on any other health problem. Fighting obesity could be America's WW III.
During the Ted Talks in Feb 2010, Jamie Oliver said that he is chef and not a doctor. Jamie described that he has been working tirelessly to help save lives over the past 7 years. And because he is a chef and not a doctor he said that he uses information to educate people about better eating. He said, "The last 4 generations of adults have blessed our children with a shorter lifespan than our parents." Combining the high stress of our lives and unhealthy eating habits makes what he said true. He also shared his view that parents do not instill cooking skills in their children. There is no culture of cooking food at home. He said that most children in the American schools have not eaten a real meal and they cannot even identify the commonest of all the fruits and vegetables.
American children eat 2 meals per day for 180 days at their school cafeterias itself. The school cafeterias sell unhealthy and processed foods to these kids. He feels that foods are actually killing today's Americans. Jamie believes that ignorant parents feed their kids with the most unhealthy foods too. Food education is something that should be taken seriously by parents, schools and by the State Education committees because if the children don't know what they are eating, they will not eat at all, he said. Jamie also believes that the food labeling is also twisted.
Jamie's wish is this; "I wish for everyone to help create a strong, sustainable movement to educate every child about food, inspire families to cook again and empower people everywhere to fight obesity." I hope it comes true for him  for America, and for every nation in the world.

                                                                                           

Final word: Jamie Oliver. Respect.
Image Courtesy: thesavvvyshopper.blogspot.com
Jamie Oliver Shares His Views On Fighting Obesity