On joining the ifood community
A chat with my friend who is a student at a university in the US, far far away from home took me back a few years   in time. He was asking me for instructions online on how to cook a particular dish. For mom it would have been one real simple and easy dish. However, when you are far away from home and have absolutely no idea of how it is made it truly is a herculean task.
I was just thinking about my initial days of cooking which was to say the least a "total disaster". I spend absolutely care-free days at my parents place and didn't ever try to find out the process behind cooking all the yummy dishes that my mum so painstakingly whipped up. A peep at times into the kitchen to find out what was cooking and trying out one odd snack recipe is what my culinary adventures were limited to. The rest of the time was spent with books, assignments, tests, TV, friends and time with parents. My mom never wanted to disturb me during my studies and so never ever put up the proposal of learning some culinary skills.
However, with marriage (10 years ago) came a kitchen of my own. My culinary adventures were a horror story to begin with. I suddenly found myself with a large number of tools, ingredients and a huge table where I wanted to lay out mouthwatering dishes. I dreamt of laying a wonderful spread for hubby dear, like the ones they show in glitzy cookery books or on cookery shows on TV. However, inadequate or to put it more realistically "no knowledge" of how to go about it proved to be a major handicap. My initial dishes turned out to be dishes that I couldn't even taste leave alone eat.
Frantic phone calls to mom and mom-in-law and some cookery books later I felt well-equipped with the ammunition to begin my war (internet was not really an option available then, atleast not in India). Thus, began my culinary journey. 
Having a foodie for a husband and then the birth of my daughter were reasons that triggered off my culinary adventures. Getting my daughter to eat a nutritious meal without fussing is what led to the huge number of experimentations. Trial and error it was.
Today however, I can proudly state that I have emerged victorious in the long battle and have conquered my enemy. Hubby dear is happy as his taste buds are well taken care of. Over time cooking is no longer a battle I fight in my kitchen, it has come to be a passion that I truly enjoy. Learning and experimenting with new and varied ingredients and different cuisines is what I enjoy the most now. Today I can proudly state that I am the "Best cook in the world" for my little 8 year old daughter.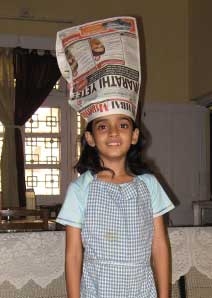 My little doll - loves to help me in the kitchen
Stumbling upon ifood .tv has truly been a wonderful experience that has added to my knowledge bank.   It's just been 10 days here for me and I have begun to like this wonderful experience of getting to know others for whom food and cooking is a passion. I am sure my friend at the university would find this treasure house of recipes and interesting videos an able guide in his culinary journey. I personally feel it is a wonderful platform for people away from home to begin their culinary journey and for the experienced chefs at home to improve on their skills. I look forward to the enriching foodie experience here.
On Joining The Ifood Community