American Masala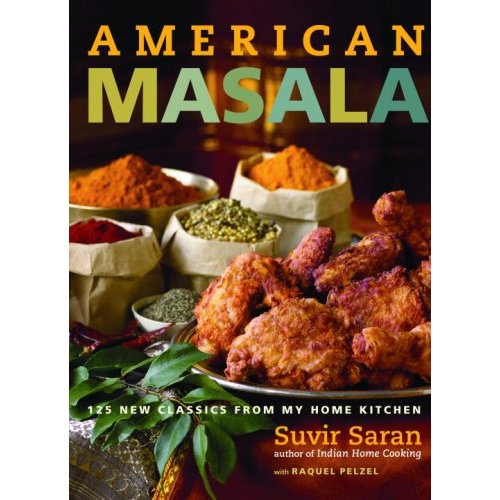 I am a fan of soft-spoken Chef Suvir Saran. So when I spotted his latest book, American Masala - 125 New Classics from My Home Kitchen (Clarkson Potter, $35)- Costco price is $21 at Costco I glanced through it and sort of shrugged but bought it any way as his earlier book Indian Home Cooking is excellent.
Suvir Saran, the chef of Devi, which is now closed. (Ozier Muhammad/The New York Times)
As we drove home I proceeded to start browsing this cookbook that is filled with gorgeous photographs and easy to read recipes. Chef Saran writes with passion and wit that makes for quick nd pleasureable reading.
Recently his NYC restaurant, Devi, closed and I was dismayed as I looked forward to dining there some day. Alas, I was delighted to learn that the closing is temporary!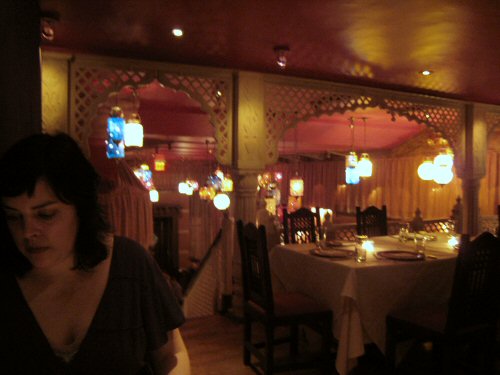 His stories of growing up in India in the shadow being often
underfoot of his family's cook, grandmother, and mother somehow transcend his life and inspires others. He shares his joy of learning from those he loves and inspires us to teach those who may be underfoot in our own kitchens.
Mangalore Fried Shrimp (Jhinga Mangaloree )
This dish is from the southern Indian coastal state of Karnataka, where seafood is an important part of the diet. The shrimp has extraordinary flavor.
I sometimes vary the recipe by adding 1 1/2 tablespoons unsweetened shredded coconut along with the mustard seeds, or 2 to 6 chopped small fresh green chiles with the scallion.
Serve with green chutney or lemon wedges, lemon rice, and a raita.
Makes 4 servings
Ingredients1 pound medium shrimp, peeled and deveined
1/2 teaspoon cayenne pepper
1/4 teaspoon turmeric
1/4 teaspoon mustard powder
2 teaspoons fresh lemon juice
4 teaspoons canola oil
1/2 teaspoon cumin seeds or black mustard seeds
6 fresh or 10 frozen curry leaves, torn into pieces (optional)
3 tablespoons finely chopped scallion
Salt to taste MethodRinse the shrimp and pat them dry on paper towels. Put them in a bowl and sprinkle with the cayenne, turmeric, mustard powder, and lemon juice.
Green ChutneyTOTAL TIME: 20 MIN
MAKES 2/3 CUP "I love green chutney prepared with fresh mint, cilantro and green mango," says Savan. "When I'm in India I'm ecstatically happy for the simple reason that I get to eat it every single day." This chutney is traditionally made with a sil batta, a tremendously versatile stone grinder. A blender also does the job easily. ingredients
3/4 cup packed cilantro leaves
1/4 cup packed mint leaves
1 serrano or jalapeño chile with seeds, stemmed and coarsely chopped
One 1-inch piece of fresh ginger, peeled and coarsely chopped
1/4 small red onion, chopped
2 tablespoons fresh lemon juice
2 tablespoons water
1 1/2 teaspoons sugar
Pinch of salt
directions
In a blender, combine all of the ingredients and process until smooth.
MAKE AHEAD Green chutney can be refrigerated for up to 4 hours.
In American Masala, Chef Suran takes American traditional recipes and gives them an Indian twist. The book begins with basics of Indian cuisine; chutneys, pickled vegetables, raita, and various maslas. He proceeds with American melting pot recipes with Spinach Lasagna with Roasted Eggplant Sauce and Veggie Enchiladas with Roasted Pepper Sauce.
I was quite pleased to see Chef Saran gives his recipe for
Manchurian Chicken, a most popular Desi Indian Chinese dish. With just a few pantry items including garlic and ketchup, this dish is a quick and tasty meal.
Eggplant Caponata traditionally includes tomatoes, olives and capers, but Saran's Indian version includes jalapeños, ground coriander, toasted cumin, and fresh cilantro. As I read his use of jalapeños I immediately said to myself-I'll use serranos as we love their hotter flavour.
There's no trace of mayo in his cabbage slaw; instead you'll find fresh ginger, chaat masala, toasted cumin, cayenne pepper, and finely chopped jalapeño peppers. Every salad bar in America seems to have some version of carrot salad, but for his, Saran sautés cumin seeds and ground peppercorns, adds ground coriander, then stir fries grated
carrots and green cabbage, adding a few other ingredients at the end like cilantro and toasted cumin. As he states time and again, the simplest ingredients become sublime with the layering and use of spices: whole, ground, toasted dry, or sautéed in oil.
The Mushroom and Taleggio Turnovers are savory pillows of crimini, rosemary and red pepper flakes with a splash of white wine all surrounded by flaky, buttery goodness. For a quick sauce use the one from the Manchurian Chicken, adding a little water to thin and spoon over these puff pastry delights.  His given recipe is about the same as the Pate Brisee recipe I have used for years from James Beard's Cuisinart cookbook.  Simple and foolproof.
Manchurian-style Cauliflower (Lahsuni Gobi)
Yield: 4 to 6 Servings (as appetizer or side dish)
This recipe is part of a pantheon of Sino-Indian fusion dishes created by Chinese immigrants who now live in India. According to Suvir, it's closely associated with the Chinatown in Calcutta, where it's sold on the street, to be eaten off toothpicks.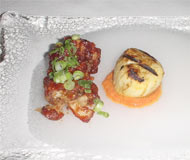 Ingredients:
Neutral oil, like corn or canola, for frying
3 eggs
2/3 cup cornstarch
1 teaspoon freshly ground black pepper
1 teaspoon salt for the batter, plus additional to season the sauce
1 large or 2 small heads cauliflower, trimmed and separated into florets
2 teaspoons finely minced garlic
1 cup ketchup
1/2 teaspoon cayenne, or to taste
Method:
Put at least 2 inches of oil in a countertop deep fryer or in a deep pan on the stove and turn the heat to medium-high; bring to 350?F (you can check this with a deep-fry or instant-read thermometer; or, a pinch of flour will sizzle but not burn when added).
In a bowl large enough to accommodate the cauliflower, beat the eggs and cornstarch together until well blended. Season the batter with salt and pepper, then add the cauliflower. Use your hands to toss until the florets are evenly coated.
Fry the cauliflower in batches small enough not to crowd your pan or fryer and make sure to let the oil return to temperature (350?F) between batches. Fry until the florets take on a pale, sandy color, with a little brown mottling; transfer to paper towels to drain.
To make the sauce, warm a tablespoon of oil in a large nonstick pan or wok over medium heat. Add the minced garlic and cook for a minute or two, until fragrant but not colored. Add the ketchup and cook, stirring, for about 5 minutes, until the sauce bubbles, thickens, and starts to caramelize around the edges of the pan. Add the cayenne; taste and add salt as necessary. Toss the cauliflower in the sauce until evenly coated and serve.
On Ketchup and India: As a matter of course, Indians serve hot or sweet or sour (or sometimes hot, sweet and sour) chutneys, made from all kinds of fruit and vegetables, with many meals. Interestingly enough, ketchup is as familiar and common in India today as it is in the States. Many people eat it instead of or with traditional chutney - so much so that Suvir grew up eating samosas with ketchup.
The Garam Masala that you made earlier is also used in his Indian-spiced Meatballs with Tomato-Chile Sauce. With garlic and chiles at the center, the spices of the Garam Masala - including ground cloves and cayenne pepper -- are the stars that twinkle with clarity and delight in the meatballs. These delectable gems are bathed in a
tomato and red bell pepper sauce, spiked with dried red chiles, fresh rosemary and thyme.
One of my favourite ingredients is the flavourful Kashmiri Mirch that I buy for about a $1 a package. I usually buy 2 at a time as it is must have staple in my pantry and not just for Indian dishes.  I prefer it to the "ground chiles" and will undoubtedly use it in his recipes.
Pistachio-and-Cardamom Pound Cake sounds as an absolutely delicious way to end a meal and can be assembled and baked in no time.
I think American Masala will become a quick favouite cookbook in my Indian section.  I might end up needing to kick recipes up a notch if not spicey enough for us, but I often do that anyway. Saran's chapter introductions as well as his footnotes for every recipe can be read over and over to inspire and remember why cooking and sharing good food is about friendship and family.
I admit to raising an eyebrow at the border-bending juxtaposition of vindaloo and quesadillas, but as I read the recipe I reallllly wanted to try it, afterall I make a Thai Pizza using Gai Kaproa/Basil Chicken as the flavourful toppings sans any cheese at all.
 Indian influence brightens the flavors in dishes like:
- Goat Cheese Pesto–Stuffed Chicken Breasts
- Tamarind-Glazed Turkey with Corn Bread–Jalapeño Stuffing - Crab-and-Salmon Cakes with Spicy Cilantro Aïoli
- Crispy Okra Salad

- Bombay-Style Whole Snapper
- Honey-Glazed Double-Thick Pork Chops
- Pistachio-and-Cardamom Pound Cake with Lemon Icing
- Fried Eggs with Asparagus and Prosciutto
American Masala isn't about traditional Indian food—it's about adding new flavors to the great American melting pot, using spices to liven up the old standbys, and enjoying dishes that are as exciting and diverse as life in the big city, and yet as familiar and comforting as your mother's cooking.
 I love okra and this recipe of Chef Surans looks onderful.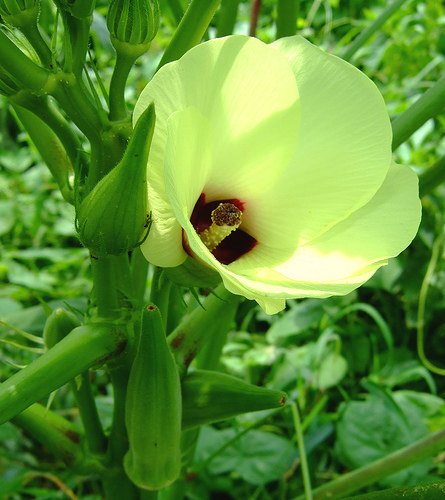 Crispy Okra Salad (Kararee Bhindi)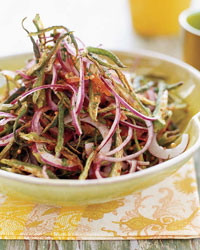 Servings:Â Makes 4 servings Ingredients1/2 small red onion, thinly sliced (about 1/2 cup)
1 medium or 2 small tomatoes, quartered, seeded, and
roughly diced
1/4 cup fresh cilantro, coarsely chopped
About 8 cups canola oil for frying
1 pound fresh okra, trimmed and cut lengthwise into thin strips
4 1/2 teaspoons fresh lemon juice (about 1/2 lemon)
1/2 teaspoon salt
1 1/2 teaspoons chaat masala*
 *Chaat masala is a blend of spices used most often in Indian street food. It is available at Indian markets or online at kalustyans.com.
MethodIn small mixing bowl, stir together onion, tomato, and cilantro. Refrigerate until ready to use.
In wide, 4-inch-deep heavy pot over moderate heat, heat 1 1/2 to 2 inches oil until deep-fat thermometer registers 350°F. Fry okra in batches (returning oil to 350°F between batches) until golden brown, about 5 to 7 minutes. Transfer fried okra to paper towels to drain.
In large mixing bowl, combine okra, onion-tomato mixture, lemon juice, salt, and chaat masala. Toss gently and serve immediately.
American Masala