Fall Harvest
A favourite way to eat kabocha squash is to fry it in grapeseed or peanut oil with thinly sliced shallots, fresh rosemary, generous sprinkle of white pepper, and sea salt. Green onion slivers make a nice garnish if desired.  Easy-Peasy and so good.
I love Kabocha!  It is my favourite squash and I always use it in Thai curries in season.  It makes great soups or toss chunks into soups.  It is a sweet wonderful healthy vegetable-so much tastier than it's cousin the pumpkin.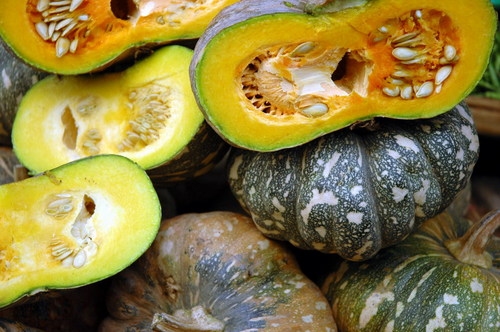 Kabocha are an excellent source of vitamins A and C and a good source of folate and thiamin.
 
Fresh from the Garden these Kabochas will keep in a cool dark place for several weeks.
Just hack in two pieces clean out seeds and chunk.
*
A favorite wagashi (Japanese tea time dessert)  made with with sweet pumpkin paste filling.  This is very famous at Minamotot Kitchoan:
http://www.kitchoan.com/E/index_b_natsu2004_e.html  in NYC, London and Singapore.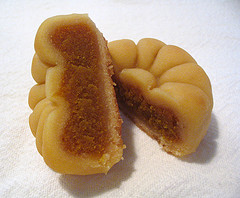 sliced in half-yum!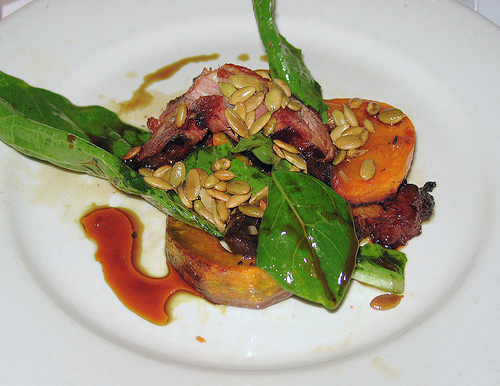 Lucques Restaurant, West Hollywood, CA
This was absolutely heavenly. I'd actually change the name of the dish to "Braised Bacon with Roasted Kabocha Squash", although the name as given sounds ... well, less-bad for you. The bacon was slightly dominant, but the golden, nutty flavor of the squash complimented it perfectly, and of course the combination of bacon and dates is one made in heaven, another sweet bit of balance to the smoky, salty bacon. - Chuck Taggart
Here is a simply Malaysian Kabocha Curry with a few green Asian vegetable leaves.
Kabocha makes amazing sweet wonderful filling for raveolis.  Add a touch of fresh sage to make them pop.Kabocha Spinach Soup

This lovely soup combining the sweetness of winter squash with savory onion, garlic and baby spinach. The kabocha squash, with its striking jade green rind, makes soup preparation a snap since there's no need to peel the skin. Serve with a thick slice of crusty bread for a warm, satisfying meal.
 
Serves 4
1 medium-sized kabocha squash, washed, seeds removed and cut into 1-inch chunks
1 large onion, chopped
8 small cloves of garlic, peeled and left whole
4 cups water or vegetable stock
2 cups packed baby spinach leaves
sea salt and pepper, to taste
sour cream, grated mozzarella cheese, or crumbled feta cheese for garnish
Bring kabocha squash, onion, and garlic to a boil in 4 cups of water or stock (I use fat free chicken stock). Simmer at a low boil until squash is completely soft, about 15 minutes.
Mash the squash, onion, and garlic with a potato masher in the soup pot. Add the spinach and cook for just a couple more minutes. Season to taste with sea salt and pepper. Garnish with sour cream (I use fat free), mozzarella cheese, or crumbled feta.
If I use feta I usually add some fresh Kaliteri Oregano leaves, and even a squeeze of fresh lemon juice.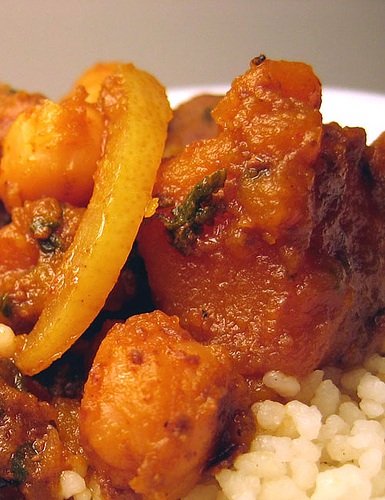 This beef Tajine with chickpeas and preserved Lemons is wonderful, for recipe:
http://habeasbrulee.com/2006/11/29/kabocha-beef-tagine-with-chickpeas-and-preserved-lemon/
Kabocha Vindaloo
And for the best sweet kabocha recipe,
try my Sangkhyaa Fak Thong  recipe:  
 

http://www.bellaonline.com/articles/art32019.asp
Save the Kabocha seeds, roast them and toss in a masala or favourite seasonings for a healthy snack.
Fall Harvest