Amazing Tandoori Chicken Filled with Spinach and Figs
Ever Eaten Tandoori Chicken Stuffed with Spinach and Figs? If not read on....
The "What i ate last night" series
On sunday, sep 23, 2007, i happend to visit, Purnima Restaurant, whose chef, Vikas Khanna is a popular ifood chef and also a good friend. I am a fan of chef vikas's inventive modern indian cooking - he always makes the familiar dishes seem new and adds a delicious and modern taste to indian food (as was witnessed in the tango mango event)
But on sunday, he really did surprise me (as the rat chef did to the food critic in ratatouille). But lets not get too far ahead and start with the appetizers. So our dinner began with Bhelpuri (puffed rice with onions, a popular indian snack, see recipe ), jalapenos stuffed with potatoes and peanuts (this recipe rocks and i highly recommend this video recipe), and a staple snack at chef vikas restaurant, the puffed salted patties.
Puffed Salted Patties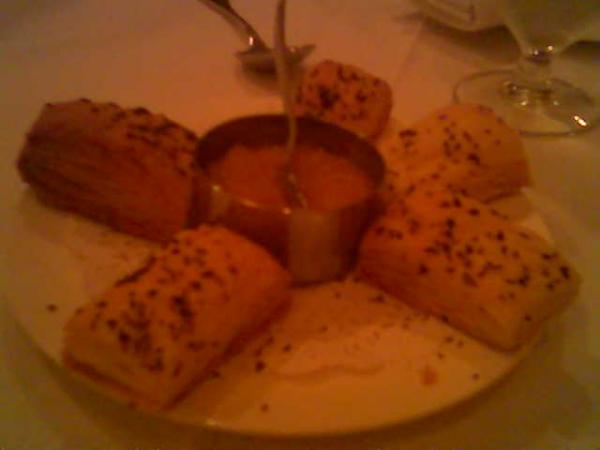 And then we were served the main course, of yellow lentils, egg plant, chicken tikka masala and the exotic and highly creative TANDOORI CHICKEN STUFFED WITH SPINACH AND FIGS. I mean for Gods, sake, who could have thought of sucha twist. Tandoori chicken is as matter of fact and taken for granted as perhaps boiled rice!! But, there in lies the genius and creativity of cehf vikas - to mix such a usual dish with something unique.
The tandoori chicken was stuffed with spinach (very nicely cooked and softened) and chunks of figs. It was rolled up like a patty and then oven baked. The final product was just delicious. The taste and the texture (one couldnt help roll and aldo want to bit into the juicy bits at the same time). I totally have to get chef vikas to tell us the recipe or perhaps to show it on video. (SORRY FOR THE POOR QUALITY PICS - its from my old mobile )
Tandoori Chicken stuffed with Spinach and Figs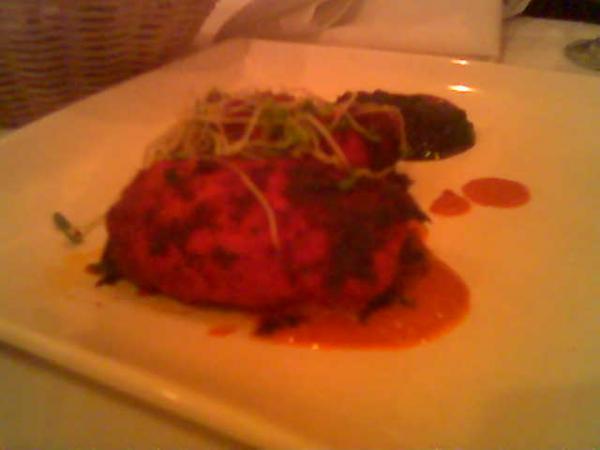 But that was not all. The meal didnt end there. Ofcourse, we had to eat dessert. But you cant get dessert withouth first geting a mango sorbet based palate cleanser. Yes, so that all your previous tastes are washed away and that you can enjoy the dessert.
Palate Cleanser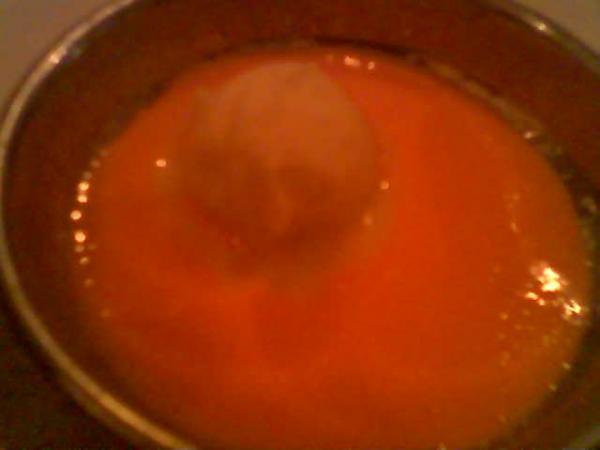 And he surpised us even more - with rose flavored ice cream sorbet presented in a chocolate coated wafer bowl. And as my stomach began to fill up to my oesophagus, he brought the last dish of the nite. Tandoor roasted peaches, split in the middle. I mean did you get it - tandoori peaches. The roasting process makes the peaches really soft tender and dulls their sourness. This is enjoyed tremendously with just plain vanilla ice cream.
Rose Flavored Sorbet Mango Kulfi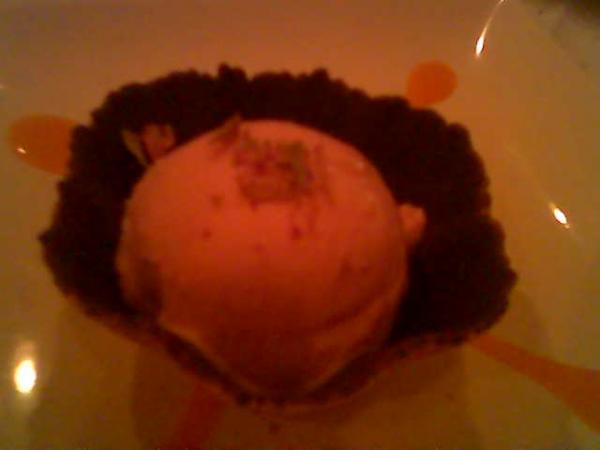 As you can see, it was one helluva dinner - they dont actually provide you beds to crash there and then - satiated, contented and having the feeling have lived life happily !
Amazing Tandoori Chicken Filled With Spinach And Figs