Foodie SEO: How To Use Pinterest To Promote Your Recipe Blog

30 May 2012
We've talked about Social Media Optimization and how to use Facebook to promote your food blog. Let's tackle what seems to be the next biggest thing in social media: Pinterest!
What is Pinterest ?
You may have heard of it as the latest thing in social media. But how does Pinterest work exactly?
Pinterest is a social network where users can share and browse images. Each user can create an account, and then create boards ("Pinboards") where they post images ("Pins") that they want to share. Each Pinboard can have a specific theme. For example, iFood.tv's Pinterest created a Pinboard called "The Sweetest Things" where we post photos of delicious desserts from our Featured Partners. This is shown in the image below: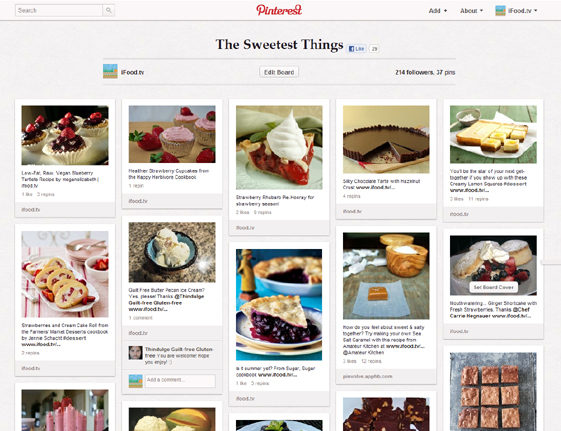 Users post images by uploading them or using the url of the page containing the image. This act of posting is called "Pinning". We'll discuss more ways to "Pin" down below.
Users can also browse other users's boards. Just like on Facebook, users can like or comment on other photos. However they do not have to be follow the Pinboard's owner to comment on or like it. Liking an image adds the image to the user's public list of "Likes".  In addition users can also re-post, or "Repin", images to their own boards. 
Why is Pinterest Important?
Because it's incredibly popular, and only growing! According to Experian Hitwise, the site has become the third most popular social network in the US, behind only Facebook and Twitter.  Quantcast estimates the site has over 5 million monthly visitors. This is a huge potential audience for your brand.
Pinterest has also become one of the biggest drivers of traffic to external sites, driving more traffic to blogs than Twitter does! This is because Pinterest can be a great source of inbound links to your blog. Every image that someone pins from your site will link back to your site. Although these are "no follow" links (which mean they do not have any impact on your SEO rankings), visitors can click through to visit your site if they find the image interesting. 
In addition, Pinterest users can also login through their Facebook or Twitter accounts. In this case, all their new Pinterest Pins will be shared with their friends and followers. If your content is Repinned and shared this way, you will be exposed to a bigger audience that is directly connected to someone who is already interested in your content.
How to Get Started with Pinterest
 Step 1: Create a Pinterest Account
Go to the Pinterest homepage.
Click "Request an Invite". Use the same email you are using for your brand's Twitter account. After a day or so, you should receive an invitation in your email. Alternatively, you can reach out to iFood.tv and we can send you an invitation through Pinterest.
Sign up for Pinterest once you have the invitation. You cannot connect your Pinterest to your Facebook Page, so sign up through the Twitter option. This will allow you to tweet your Pinterest activity through the Pinterest platform.
Fill out your Pinterest profile information to reflect your blog or brand. Make sure you add a logo.
Make sure "Hide your Pinterest profile from search engines" is set on "Off" so your profile can be indexed by search engines and therefore displayed in search results.
Step 2: Begin Pinning:
Pinterest discourages using the site purely for self-promotion. That is, do not just post content that you sell; make sure that your content is appealing and promotes your brand's vision and lifestyle. Make sure it's not all about you.
How to Pin Content?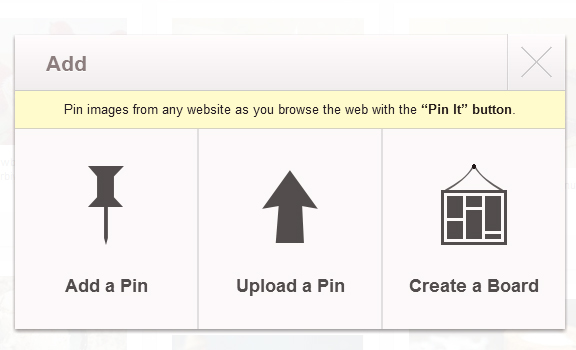 1) Add a Pin through a URL
Go to Pinterest, and click on Add+ on the top right. A window will pop up. Click "Add a Pin".
You can then enter in a webpage URL, and Pinterest will automatically pull in large images from that page. You can choose between the images it presents, add a caption, and then pin it! Now the image will be linked to that page. Ideally if you want to drive traffic back to your website through Pinterest, this is your best option.
2) Upload a Pin
Go to Pinterest, and click on Add+ on the top right. Click "Upload a Pin."
Upload the image you want to Pin. Then add a caption to describe the image. You can include a link in this description, but if a user clicks on the Pinned image itself, it will not be linked.

 
3) Use the Pinmarklet feature if you're on the browser Google Chrome
Get the Pinmarklet here.
Once the plugin has been installed, just view any page in Chrome. Then click the "Pin It" button, and it will pull up all the large images from that particular page. You can then pin any of these images to your board. The example on the right shows how the Pinmarklet works on iFood.tv's Easter Page.
What kind of content can you feature?
Images of your recipes
Behind-the-scenes photos from photo shoots, filming, events or more!
Interesting images from food news
Your videos
Food related infographics
Fan photos. For example, encourage fans to take pictures when they make your recipes. They can share these photos on your Facebook Page, and you can select your favorite ones to share on your Pinterest.

 
Create a few different pinboards with different themes.
For example, iFood.tv's Pinterest  features pinboards dedicated to different holidays, courses, products, etc. You can choose which image to feature as the main board cover for each Pinboard. Just hover your mouse over one of your boards, and click "Edit Board Cover". Make sure these board cover images are intriguing and representative of the board's theme.
How to Build a Following & Engage with the Pinterest Community
Create a few Pinboards with content before you try to gain followers. You want to give potential followers a sense of what you'll be posting. 
Users can follow:
A specific pinboard: they will only be notified on their Pinterest stream if someone posts content to that specific board
An entire account - they will be notified everytime that account pins content to any board. 
Start engaging with other users and pins! 
Find other relevant users by:
Finding the Pinterest profiles of fellow food bloggers. Reach out to bloggers and ask for their Pinterest link. Yours will be Pinterest.com/yourusername.
Visit the Pinterest homepage and select Food & Drink from the "Everything" drop down menu at the top. Now you can browse all pins related to food. If you find that a user is consistently posting interesting images or videos, follow them!
Build a following by:
Promoting your Pinterest page on your blog and other social media outlets.
Add a Pinterest follow button on your site and Facebook page. Get the code here.
Create specific boards featuring quality images based a keyword that is relevant to your site.
Follow other users. Comment on their content, and Repin! They may check out your Pinterest and return the favor. 
Run a giveaway! Ask entrants to create a Pinboard centered on content related to your brand, and choose the best pinboard to win a prize. Or Re-pin these boards to your own Pinterest page, and then ask users to vote by liking or commenting.
Add a Pin-It button to your site so they can easily share your site's content on Pinterest. This is just like adding a Facebook or Twitter "share" button on your site. Get the Pin-It  button here.
Use relevant hashtags, or keywords, when describing your image. These can be hashtags that you are also using on Twitter.
Conclusion: 
Pinterest is a very visual community, and thus a perfect fit for a food blogger. It's a great way to gain brand exposure and increase traffic. If you'd like to learn more, here are some great resources used for this entry:
Hubspot: How to Use Pinterest For Business
MarketingProfs: Pinterest Beyond the Basics
Mashable: Pinterest, A Beginner's Guide
What do you think about Pinterest? Is it here to stay?
As always, if you have any questions, please feel free to comment on this blog. 
Foodie SEO: How To Use Pinterest To Promote Your Recipe Blog