Tips To Prepare Low Calorie Chicken Pot Pie

31 Mar 2012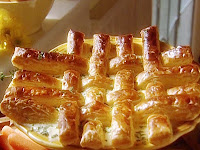 When we think of comfort food, one of the first things that comes to mind is chicken pot pie. However, as comforting and delicious as it may be, we also know it tends to be rich and packed with calories. So, we decided there has to be a way to have the best of both worlds--something that is delicious and still good for you. So, we've made the switch to a healthier low calorie chicken pot pie. It is protein rich, provides vital vitamins and minerals, is low in saturated fats and sodium, but more importantly nourishes the soul. Intrigued yet? Well, here's a few simple tips to help you create your very own "guitless" chicken pot pie.
How To Prepare Low Calorie Chicken Pot Pie
Never buy readymade crust dough because then you have no control over the amount of fat and the type of carbohydrates that it contains; Make your own crust!

 

Save calories by making the pie only with a base crust, no upper crust (or vice versa). Also, change the composition of the crust by using whole wheat, oats or low fat crackers which adds to the dietary fiber content

 

Reduce the amount of fat used in the crust and also change they type of fat from butter to a low-fat butter replacement or a vegetable-oil based margarine. This alters composition of fat and cuts out harmful saturated and trans-fats.

 

Be generous with vegetables, it is not only filling but adds to the nutritive value as they are rich in fiber, vitamins and minerals.

 

Avoid using egg yolks, they contain a lot of cholesterol. Whole eggs can be substituted with egg whites or egg substitutes like egg beaters.

 

Skim Milk is the optimal choice in recipes like this because it is low in fat yet the protein content remains unaltered

 
Simple modifications like the ones listed above can reduce almost 200 calories and cut the fat content to one fourth the original recipe.
Nutritional Comparison: Traditional Chicken Pot Pie vs Low-Cal Chicken Pot Pie
Nutrient/serving
Traditional
Low Calorie Chicken Pot Pie
Total calories (Kcal)
484
192
Fat (g)
29.1
4.6
Saturated fat (g)
9.7
1
Total Carbohydrate (g)
42.6
29.6
Cholesterol (mg)
51
41
Sodium (mg)
926
835
Protein (g)
13
9.2
Try out this amazing low calorie chicken pot pie recipe and you would never make it any other way!
Image Credits: lynn-southernwithatwist.blogspot.in
Tips To Prepare Low Calorie Chicken Pot Pie