Tips To Prepare Low Calorie Apple Pie

30 Mar 2012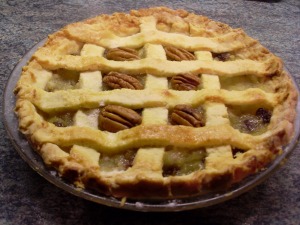 Who doesn't love a warm slice of apple pie! So what do you do when you are trying to shed those extra pounds or eat healthier, Say good bye to this scrumptious dessert? Not necessary! Did you know there are ways to make this calorie dense dessert, lo and behold, presenting low calorie apple pie. Low Calorie Apple Pie is not only rich in antioxidants, dietary  fibre, water soluble vitamins, and minerals provided by apples, but is also has lesser calories, fat, and simple sugar content. Here are a few simple tips that you could incorporate easily into your cooking techniques to make a delicious low calorie pie
How To Prepare Low Calorie Apple Pie
Maximum calories in a pie come from the crust as it is high in fat and carbohydrates. Modifying the crust would help bring down the calories. Primarily, prepare your own crust (if you really need one).
While making the crust firstly reduce the fat used, and also change the fat used. Traditionally, we use unsalted butter or margarine to prepare the crust use light butter that is easily available in the market these days. This you cut down calories while bringing down the harmful fat content (saturated fats and trans fats).
Instead of all purpose flour use wheat flour, oats, low fat crackers this adds more dietary fibre to the dish increasing its satiety value. You consume less in turn taking in lower calories.
The crust on top can be laid down in strips (as illustrated in the picture) or go completely crustless. It literally halves the calorie content
Always use fresh apples. Canned apples are preserved with sugar, which add extra calories which you can avoid.
Sugar adds empty calories to the dish! Omit it and use sugar substitutes made out of sucralose, like splenda.
Whole eggs can be substituted partially with egg whites or completely with egg substitutes brining down the fat and cholesterol levels without altering protein content
Always use skim milk
Use an oil spray instead of greasing the pie pan the traditional way.
Lastly, avoid using sugary syrups, whipped cream, and ice cream as accompaniments. Look for the healthier version of the same, you won't believe the variety you have to choose from.
A quick glance at the nutrient content would reveal that simple modifications like these can help in a big way to cut down calories, making this dessert suitable for people trying to manage weight, diabetics, or those who just want to eat healthy without compromising on taste!
Nutrient Content Comparison of Traditional Vs  Low Calorie Vs Crustless Apple Pie
Nutrient/serving
Traditional
Low Calorie
Crustless
Total calories (Kcal)
411
193
89
Fat (g)
4.5
1.1
0.5
Saturated fat (g)
1.1
0.3
0
Total Carbohydrate (g)
38
23
19
Cholesterol (mg)
0
0
0
Sodium (mg)
245
0.1
Protein (g)
1.8
0.3
Try making a variety of mouth watering low calorie desserts using these tips, like this amazing low calorie pumpkin cheesecake, that would leave you asking for more!
Image credits: javanehskitchen.wordpress.com
Tips To Prepare Low Calorie Apple Pie