How To Make Lemon Wreath

13 Jan 2012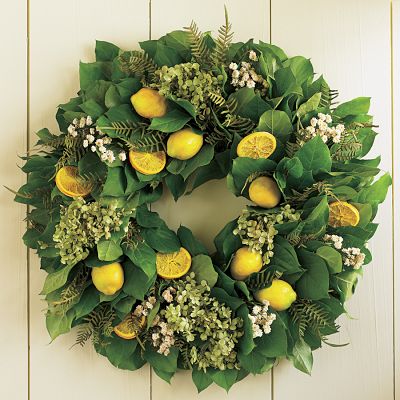 Holiday wreaths can become citrus in flavor when you use lemons to make them. The yellow colored lemons bring in cheer not to mention their pleasant, fresh smell. Combine eucalyptus branches with lemon to make a fabulous aromatic wreath for your home this autumn. Let us see how…
Steps to Make Lemon Wreath
To begin with, we need a base wreath or wreath frame. A foam wreath would do fine. Alternately, a wire wreath or one made ofgrape vines would also be good.
Cut eucalyptus branches and glue them onto the wreath frame to cover it completely and hide the gross base form.
Either wire, glue or both can be used to fix the branches onto the wreath.
Now, for the lemons, pierce a hole right through the center using a ice pick. Insert the florist wire through this and fix it on the wreath.
Do the same with all the lemons.
Make sure that lemons are evenly distributed on the wreath.
Twist the wire to form a hook and attach it to the wreath to hang it with.
Watch the video to see how to make a holiday season wreath with lemons:
Ideas to Decorate Lemon Wreath
A decorative bow at the bottom would make the lemon wreath very attractive. Just make sure to take the lemons down before they turn bad.
Alternate lemons and oranges to get a colorful citrusy wreath.
Lemons on a background of green look absolutely wonderful and fresh, nevertheless, some dark colored flowers can add panache to the same.
Lemon wreaths are easy to make and with the tips given above, hope you can make one for your home this holiday.
Image credit: sherimartininteriors.wordpress.com/ ; dancingbranflakes.blogspot.com/
Video credit: youtube.com/
How To Make Lemon Wreath