How To Make Chili Wreath

13 Jan 2012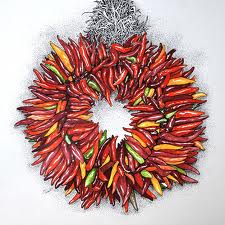 Add spice to your fall decorations by making a chili wreath. Chili colors can take the monotony away from the dark, boring, and dreary winters. Hang chili wreaths on your door or indoors for a colorful cold season. Wreaths can be made into squares, heart shapes, or the more conventional circles. Read on to learn how to make wreaths using chili without any hassle…
Steps to Make Chili Wreath
Buy dried red chili from the market. The international food aisles of most supermarkets stock them.                                              
Get some florist wire and a wreath frame too while you are shopping.
Slit the stem of the chili at the center and insert the wire through this.
Twist wire to arrest the chili so that it does not slide off the wire.
Make slits in all chili and keep threading them on the wire in the manner described.
Now, you will be having a string of dried chili.
Attach this to the outer circumference of the wreath frame using pins or wire pieces.
In a similar fashion, make another string of chili, this time smaller than the first one and yet another one, smaller than the second one.
Attach the second string of chili, inner to the first one on the wreath frame and the third string right inside to the second one to give a three layer, lush look to the wreath.
Use the wire to make a loop or hook to hang the wreath.
Ideas for Decorating Chili Wreath
Chili of various types and colors can be used to make the wreath more colorful.
Some bright colored dried flowers and leaves can be added to the wreath with glue for a fall feel.
Attach some white snow on the red colored chili wreath for a more authentic look.
Chili wreaths are hung in homes throughout Mexico where it is a holiday tradition. Try it and adorn your door too!
Image credit: myitchytravelfeet.com/ ; neiltalbott.wordpress.com/ ; blog.thekatsgarden.com/
How To Make Chili Wreath