How To Make Apple Wreath

13 Jan 2012
Apples, whether green or red are used for making spectacular wreaths to decorate doors and homes during fall. Apples abound in this season and a few extra ones can be transformed into beautiful craft in lieu of seasonal changes. Dried apples as well as whole apples are used for making lovely decorations during holiday season. Read on to learn how to create exquisite wreaths using apples …
Easy Steps to Make Dried Apple Wreath
Making a dried apple wreath is very simple.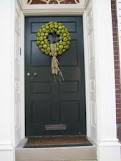 You need to begin by slicing the apples either vertically or horizontally according to the shape desired. Keep in mind that all slices should be approximately of the same thickness.
Put the cut slices in a bowl of lemon water and salt. The lemon coating would prevent discoloration of apple slices.
Preheat oven to 250 degrees C and dry the apples for about 4 to 5 hours. Alternately, a vegetable dehydrator can also be used for the purpose.
Dry the apples until they are devoid of moisture but continue to be pliable.
Get a base wreath of foam, wire, vines, or cardboard. Using glue stick colored artificial leaves on the wreath to give it a natural colorful autumn look.
Place the apple slices on these leaves and stick them around the wreath.
Apple wreath is ready for decoration.
 Make your own Apple Wreath at Home
Push in a nail through the core of the entire apple to make a passage for the wire to thread them.
Core the apples and treat them with salt and lemon.
Dry the apples for 6 to 12 hours.
String the apples using a florist wire.
Form a circle and tie the ends or twist to make a hook.
Ideas for Decorating Apple Wreath
Add plaid bows and ribbons to give a festive look to the wreaths.                                                                                               
Spray the wreath with matte spray and preserve the look.
Alternate green and red apples on the wreath for a brighter look.
Hazelnuts and pinecones can also accentuate the appearance and add to the seasonal flavor.
Apple wreaths are warm and inviting and ideal decorations for home and offices during the cold season.
Image credit: glenoaksprimitives.blogspot.com/ ; rescuegreenxj.wordpress.com/ ; enchantedfloristoldtown.wordpress.com/ ;  blueberriesforme.wordpress.com/
How To Make Apple Wreath