How To Make Lavender Wreath

12 Jan 2012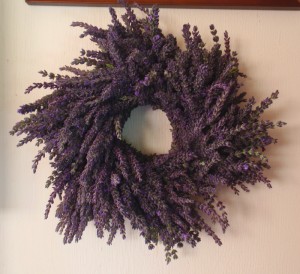 Those of us who love the purple colored small lavender flowers would completely enjoy the idea of hanging a lavender wreath on the door. Lavender flowers have a very pleasant and relaxing smell. Enjoy this every moment with a lovely wreath made of these right at home. Making a wreath with lavender sprigs is easy and given below are instructions to try out the same…
Steps to make Lavender Wreath
Cut lavender sprigs from your garden or buy them from the market.                                                                                                 
Get rid of the woody stems.
Lavender flowers have to be dried. Hang them by their stems for about a week.
Get a base wreath made of wires or vines.
Stick moss on this base using a glue gun.
Hold the dried lavender in bunches and tie them up at the stems.
Try to get the blossoms at almost the same height.
Attach this bunch on the wreath with wires. Tie the stems with wires and tuck the ends behind the wreath.
Place flowers of the next bunch over the secured stem of the first bunch and tie it up.
In a similar fashion, cover the entire wreath with lavender. The last bunch should have its stems tucked under the flowers of the first bunch.
Watch the video to see how lavender wreaths can be made in another way and pick up a few tips on the same:
Tips for Decorating Lavender Wreath
Lavender wreath is lovely without any extra decorations. The lavender colored flowers are beautiful.
Lavender, blue, or purple colored bow on the wreath adds elegance to the wreath.
Bright colored, dried flowers and leaves can be attached to make the wreath brighter.
A lavender wreath can be made in a number of ways. With help from the tips mentioned above, get your creative juices flowing and try a method of your own to make a lovely purple lavender wreath.
Image credit: lavenderfarms.net/ ; partygreencelebrations.wordpress.com/ ; huppahsblog.wordpress.com/
Video credit: youtube.com/
How To Make Lavender Wreath