How To Make A Traditional Chinese New Year Dumpling

12 Jan 2012
Chinese New Year according to the lunar calendar, this year, will welcome the Year of the Dragon. It is customary to make dumplings for dinner during  New Year's Eve in the northern parts of China. The dumplings are symbolic of packets which conceal luck, wealth, and prosperity. The Chinese have been practicing the art of making dumplings since a very long time. They are usually made of minced meat, vegetables wrapped in dough rolled into thin skins and can be cooked by boiling, frying, steaming, and even baking. Let us see how to make these delicious, small packets of luck at home with ease…
Easy Steps to Make Traditional Chinese New Year Dumplings
Chop meat very finely and then mash.
Add in salt, sesame oil, ginger, scallions, soy sauce, cabbage, and mix thoroughly. Add in some water if required.
Take a bowl and put in some flour. Add water to mix and knead to form soft, pliable dough.
Cover dough and keep aside for about an hour.
Spread some flour on the working surface and knead the dough on this.
Roll dough to form a long sausage and pinch off small equal sized pieces from this.
Flatten each piece with your hand or you can even use a rolling pin to roll it into small pancakes.
Put the filling in the center of this flattened dough.
Wrap dough into half moon shapes and seal them.
Put the dumplings in a pot of boiling water and cook.
Serve hot with soy sauce, vinegar, pepper oil etc. Alternately, dumplings can be boiled along with vermicelli and served.
Watch the video on how to make simple Chinese dumplings for this New Year and pick up a few more tips:
powered by ifood.tv
Tradition and Chinese New Year Dumpling Variety and Fillings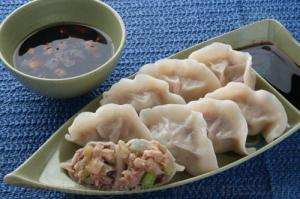 In different regions of China, the dumplings are made and served in various ways. Chinese dumplings can be filled with almost anything, from vegetables, to seafood, to meat. The skill lies in wrapping them attractively with dough. They are usually shaped into crescents, or spheres. They can also be sweet in taste. In some parts, coins are concealed in them, symbolic of wealth and fortune that you are likely to get the coming year. Making Chinese dumplings are a family teamwork in most Chinese households. Family members come together and enjoy the entire process.  
Enjoy traditional dumplings this Chinese New Year!
Image credit: sarawakheritage.wordpress.com   ; ljrich.wordpress.com  ; pitchforkdiaries.com 
Video credit: ifood.tv/recipe/
How To Make A Traditional Chinese New Year Dumpling