Culinary Journey To Boston
Boston Seafood
BOSTON - New England without fresh seafood would not be New England! If you love fresh seafood, and who doesn't head for Boston for a culinary holiday.
Ever since Colonial days fishermen have been pulling out the treasures of the sea and popping them into hot steaming kettles or preparing the famous New England Clam Bake.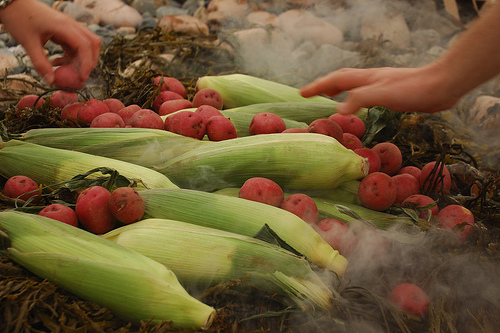 Clams, lobsters, corn, and  red potatoes are laid into the pit of hot rocks covered with seawater wet burlap sacks and seaweed.  Then covered with additional hot rocks, wet seaweed and burlap sacks.
The traditional clambake is an all-day affair, although most guests arrive in the evening.  If you are doing this at home, you can also steam in a large pot and serve on newspapers on an outside table.
It is a fun way to entertain whether at the beach or in your own backyard.  While waiting for the main event, serve your guests a bowl of creamy clam chowder or some clam cakes to get you in the mood.
 Traditional Clambake
Dig a pit on the beach, about two feet deep, two feet wide and three feet long. The guys will need a few cold beers!
Line the bottom with large stones.
Build a wood fire over the stones and keep it burning for about two hours, feeding it when necessary, to heat the rocks. Let the fire burn down to embers, about another two hours.
While the fire is winding down, wrap potatoes, littleneck clams, corn on the cob (in husk), onion quarters, mussels and spicy sausages, by group, in cheesecloth or foil.
Cover the coals with a thick layer of seaweed, preferably rockweed which has little pockets of sea water, but other seaweeds will work. This provides both protection from direct heat and the required steam.
Layer the packets of potatoes, clams, corn, onion, mussels and sausage, and then live lobsters, if desired.
Top with another couple inches of seaweed, and if you're not using rockweed, a couple of quarts of seawater for steaming.
Cover the entire pit with a seawater-soaked canvas weighted down with either rocks or sand.
Continue your party for another hour or two until all the foods are cooked through.
Savor this fabulous summertime feast, served hot with plenty of melted butter and washed down with icy cold beer.
ENJOY!
As you savor this meal it is hard to believe that once long ago, lobsters were so plentiful that Native Americans used them to fertilize their fields and to bait their hooks for fishing. In colonial times, lobsters were considered "poverty food."
 Can you imagine that?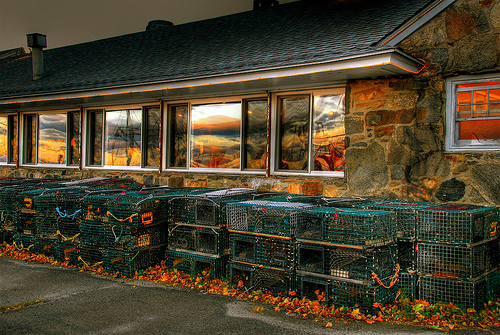 The ocean provides a welath  fresh sweet seafood. 
In Boston, a great city for eating, a solid seafood tradition plays out daily in dining where even McDonald's serves lobster rolls!
LOBSTAH!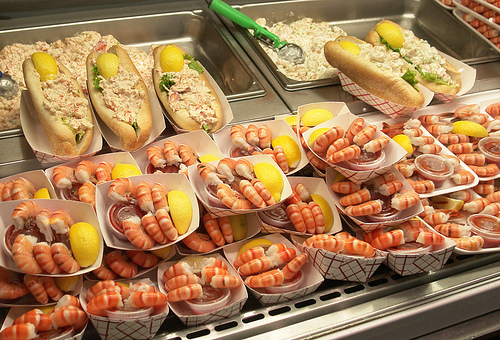 Lobster, crab and shrimp rolls at Quincy Market
Lobster Roll at Lobster Shack-love it!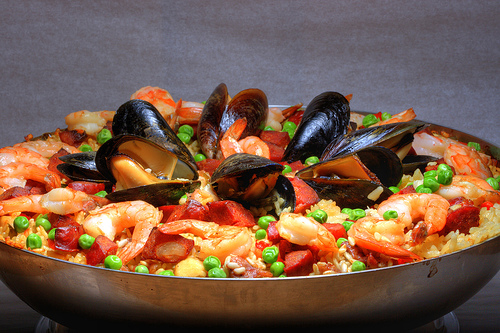 Boston Seafood Paella
Softshell Crab is wonderful as long as the oil is VERY hot!
Boston Clam Chowder is the best!
Summer barbie loaded with fresh field sweet corn and softshell crab-can't get any better than this.
No wonder the International Seafood Show is held in Boston!  However, many of the offerings are frozen imports. Boston International Seafood Show
Fresh Boston seafood sushi
Softshell Crab, Scallops, and prawns
Logan International Airport, Boston
Coming into Logan is one of the most beautiful sights in America.  The Boston Harbor is amazing especially in light of the history of America. Tea Party anyone?
Time to hop a plane for Boston!
Culinary Journey To Boston