Boston - Culinary Delights part 2 Photo Credit: Greg MacKay

 
Cambridge, MA is just across the river from Boston proper.
Being a huge fan of Chris Schlesinger's we head out for dinner one evening to this mecca of hot and spicy seafood, The East Coast Grill. We own several of his cookbooks and are fans of his Inner Beauty Hot Sauce which is guaranteed to "wake" up any tired taste buds.  Since it is no longer bottled and sold make your own.
Warning this is seriously HOT!
 INNER BEAUTY HOT SAUCE
Recipe From : Big Flavors Of The Hot Sun by Chris Schlesinger

15 habanero chiles -- roughly chopped

1 ripe mango -- peel, pit, mash

1 cup cheap yellow prepared mustard

1/4 cup packed brown sugar

1/4 cup white vinegar

1 tablespoon curry powder

1 tablespoon ground cumin

1 tablespoon chili powder

salt and pepper -- to taste

WARNING: Hottest sauce in North America. Use this to enhance dull and boring food. Keep away from pets, open flames, unsupervised children, and bad advice. This is not a toy. This is serious. Stand up straight, sit right, and stop mumbling.

Be careful no to rub your nose, eyes, or mouth while working with habaneros. you may actually want to wear rubber gloves while chopping and mixing -- these babies are powerful.

This style of hot sauce, widely used in the West Indies, is basically habanero peppers (also known as Scotch Bonnets), fruit, and yellow mustard, with a few other ingredients thrown in. Use this recipe as a guideline. Habaneros are at the top of the chile pepper heat scale, so feel free to substitute other peppers of your choice.

Funnel the sauce into an old pint liquor bottle, then let your imagination run free as to what whopper you can lay on your guests regarding its origins. If you're having trouble, here's a start: "One day in Jamaica I was in this dingy bar and met this old guy who..." and you take it from there.

METHOD:

Mix all the ingredients together and stand back. This will keep, covered and refrigerated, until the year 2018. Be careful though: If it spills, it will eat a hole in your refrigerator. If you ever want to dispose of it, call the local toxic waste specialists.
 We are so enchanted by the fabulous food we take Sunday Brunch at the East Coast Grill partaking of the world's largest Bloody Mary Bar in the world.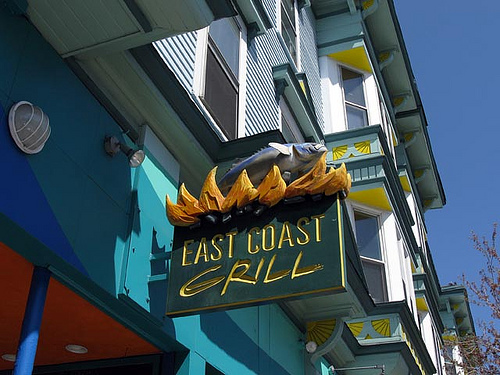 Chris Schlesinger's East Coast Grill located at 1271 Cambridge Street  is not for the culinary timid.
One of my favourite dishes at the East Coast Grill is the Rellena Muy Caliente.  I played around with the taste and concept and her is the recipe-perfect as an appetizer.
http://www.ifood.tv/recipe/banana_rellena_muy_caliente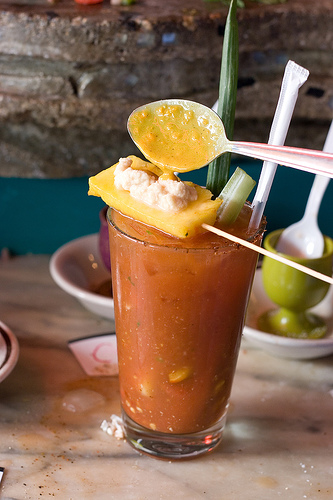 Working the Bloody Mary Bar!
 Out of the Ocean into the Fire is Chris' mantra! 
Chris specializes in big flavors often laced with chiles.
East Coast Grill-Special Events include the infamous Its a Cold Day in Hell which will be held January 26-28.
http://www.eastcoastgrill.net/main/specialevents.htm 
After stuffing ourselves with flame thrower food we decide to take a walk on this slightly rainy day.  Just a coupple of doors down the street is a great spice shop.
531976-boston-culinary-delights-part-2.l
Christina's Spice & Spec Foods
1255 Cambridge St , Cambridge, MA 
Wonderful selection of spices, and I picked up some black quinoa which I had never seen before.
One of my favourite spots to leisurely dine is the lovely Elephant Walk for a relaxed gourmet meal of French or Cambodian cuisine.  The chef owner, author,  Longteine "Nyep" de Monteiroalso who teaches small classes at The Elephant Walk in Cambridge. 
I was drawn to this restaurant as I am a fan of The Elephant Walk Cookbook: The Exciting World Of Cambodian Cuisine (By Monteiro, Longteine De, Neustadt, Katherine)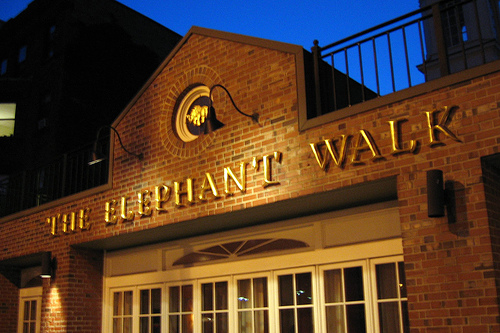 Continued-Boston Seafood:
Boston - Culinary Delights Part 2