Boston - A Culinary Delight
Food, in a wide combination of styles, from many different ethnic roots, served using the finest fresh ingredients from the land and sea.  Historical buildings and architecture that go back to some of the deepest American roots and include the oldest operating restaurant in America (and, surprise, it is good!).  If that combination intrigues you, then the next stop in your Culinary Travel itinerary should be Boston, MA. Boston hosts over 12 million annual visitors from across the US and around the world. This vibrant, thriving city is renowned for its abundance of fresh seafood, cultural facilities, world-class educational institutions, as well as its place at the very forefront of American history. Boston is able to accommodate and entertain you as few other cities can.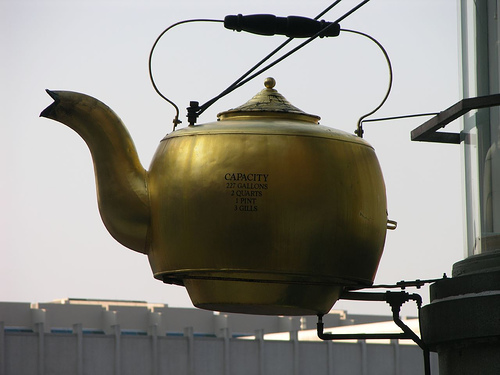 A reminder of the famous Boston Tea Party, this sign now hangs above a Starbuck's.
Due to its size, Boston is a very accessible city that has a reputation as a walking city relies perhaps due to the creation of one of America's first historic walking tours, The Freedom Trail.
The Old State House  
The Freedom Trail provides a perfect introduction to Colonial Revolutionary Boston. The Trail takes the visitor to 16 historical sites in the course of two or three hours and covers two and a half centuries of America's most significant past. A red brick or painted line connects the sites on the Trail and is easy to follow at your own pace with many delightful spots to stop and have coffee or a snack along the way.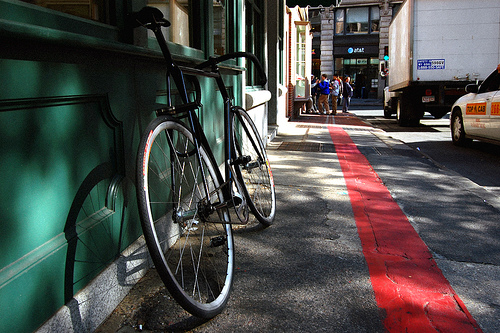 I like to begin this walk early in the morning after taking in the Quincy Market / Fanueil Hall.  This is perfect for a stop or two for an early lunch and beverage..
Faneuil Hall Marketplace is an amazing market.  You feel like you have stepped back in time as you gaze up at the surrounding buildings.  Be sure and wander into the permanent Middle Eastern Markets near the produce area.  I found a fabulous a wonderful stainless steel Couscoussier at one of these shops for  half the price in gourmet cookware shops..Faneuil Hall has been both a social and commerce center since 1742.  It has been transformed into one of America's premier urban marketplaces containing 50 shops, 14 restaurants, and 40 food stalls.
Union Oyster House, perfect for a rest and a pint.
 Union Oyster House, established in 1826 is a perfect spot to stop for a quick lunch and a pint of on tap brew and soak up the atmosphere of this historical establishment which is the oldest continuously operating restaurant in the US.  Their clam chowder is considered tops as are the oysters. 
The Bell-in-Hand Tavern was established in 1795 making it America's oldest, continuously operating Tavern.  Some of yester years patrons included  included Daniel Webster, Paul Revere, and William McKinkley.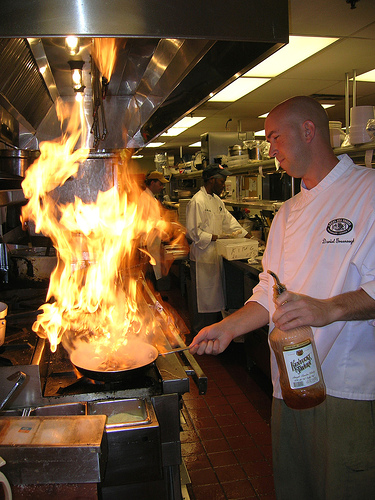 No trip to Boston for a seafood lover is complete without at least one meal at one of Legal Seafood's numerous locations. 
 Lobster platter from Legal Seafoods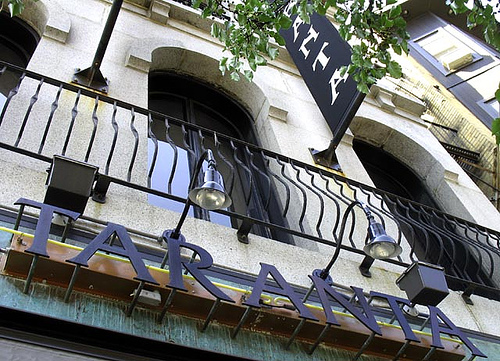 Taranta  is  a very special restaurant nestled in the Heart of Boston's Historic North End where Peruvian meets southern Italian for exciting fare.  They offer a cooking class with a difference and a lot more fun than just listening.  Taranta holds a Cooking Challenge which involves a crazy-fun scavenger hunt around the North End Markets.  They supply a set of hints and participants proceed to shop for the ingredients and then bring them to the restaurant to prepare dinner. Participants get to visit and interact with traditional stores located in the North End.  They prearrange with the purveyors who are waiting to assist the "student-chefs" in locating their culinary needs.
Typical class of Cooking Challenge participants preparing their feast
Savenor's Market on Charles Street on Beacon Hill, Boston, MA 
A long time favorite of Boston's gourmand's is Savenor's Market tradition first opened their doors in 1939 in Cambridge, Massachusetts.  This amazing gourmet grocery has one of the finest butcher shops anywhere. It is said even Rockefellers, Kennedys and Schlesingers shopped here. Savenor's became a household name as it was the favorite grocery for culinary icon, Julia Child. 
Savenor's was Julia Child's favorite Boston Market
 She often mentioned this shop to source all of the meats for "The French Chef" throughout the eleven-year run of her popular PBS show. As any fan of the show could attest, Jack Savenor was frequently mentioned on-air, in addition to making several guest appearances as Julia's beloved butcher. With one shop already located on historic Beacon Hill, Savenor's opened up a second retail outlet near Cambridge's Harvard Square. The original store made headlines when it burned down in 1992, a catastrophe which caused devastation not only among the Savenor family, but also the culinary-minded Bostonians who fancied their superior food products.  
KingFish Restaurant, at the Quincy Market, Boston
 KingFish, owned by Chef Todd English KingFish is an exiting restaurant delivering both vibrant flavors and a splash of colors and sounds. 
Fire pit of roasting fish at KingFish
Seafood comes from the kitchen steaming hot and fresh with well balanced flavours.  This restaurant is a delight to the senses.
."Little Italy" in Boston is filled with history, ethnic heritage and authentic Italian food. The North End Market Tour is a walking tour that is like a cooking class on foot: glean insider cooking tips; gain resources and knowledge on how to identify and where to buy the very best ingredients. (Old World" as they are, many of the stores we'll be visiting sell their products online as well.)
North End Market best Italian markets and restaurants this side of Rome: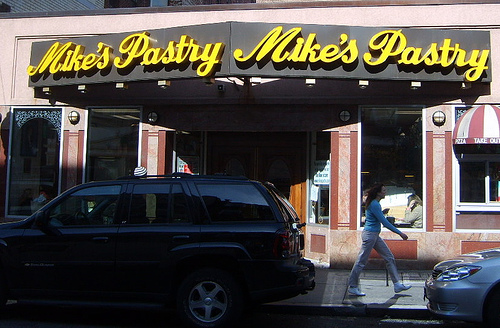 Mike's Pastry, Hanover Street has the best Italian pastries and Italian coffee, authentically prepared.  This pasticceria offers amazing biscotti, cannoli, gelato, and other confections fresh from the back room bakery.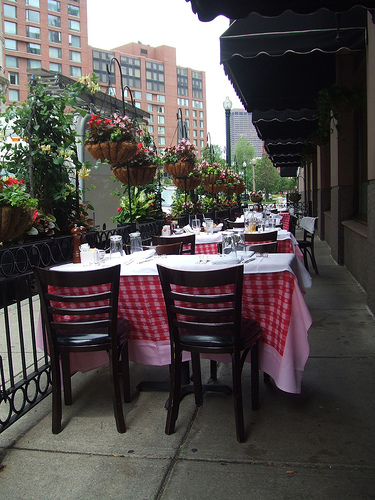 Stop for a bite or a glass of vino and take in this wonderful slice of Italy in Boston.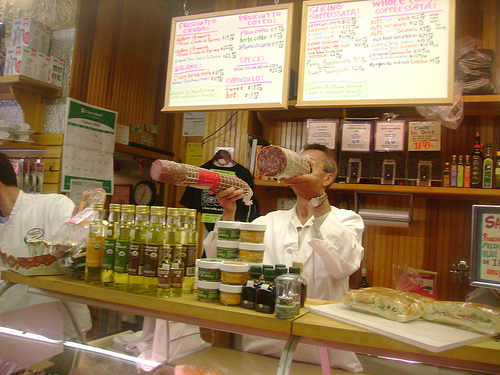 Salame and Soppressata 
A must stop in the North End Little Italy is an authentic salumeria stocked with the best olive oil, balsamic vinegar, olives, salami, cheese, prosciutto, pasta and much more.  The smells will drive you crazy with hunger!
Not to be missed is the amazing gelato just like in Italy with that smooth stretchy texture and real fruit flavors.
Neptune's Oyster Bar
Neptune's Oyster Bar 63 Salem St. North End Boston is a gourmand's delight for some of the best raw seafood in the US. 
We love feasting on a late afternoon assortment of just plucked from the sea oysters and clams at Neptune's.  The champagne offerings are great also.  I suggest getting in here early to beat the crowds of hungry throngs that descend upon this popular spot.
We like to wander about the streets of Little Italy and decide where to have dinner, a perfect ending to a marvelous foodie day.  Although you can walk the Freedome Trail in a few hours I love taking my time and stopping many times to enjoy the food and sights.
Many of the restaurants are open to the street for great dining and people watching.  Each spot insists they are the best Italian restaurant, so it is difficult to make your choice.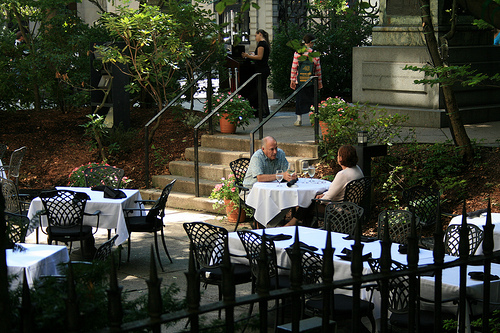 Sip a cup of expresso after dinner as you plan tomorrow's foodie spots to explore.
continued:
Boston - A Culinary Delight