Argentina Wine Tour

13 Jun 2011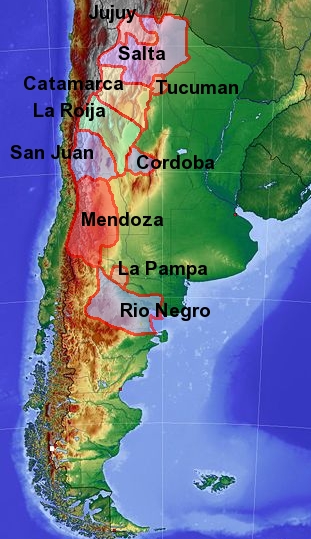 Argentina wine tour will provide you a chance to not only tour the wineries, but also to soak in the scenic surroundings with a chance to indulge in some fun activities.
Wine production in Argentina has its roots during the time when the region was colonized by Spain. Today, Argentina is the fifth largest wine producer in the world. The country is famous for producing Malbec—a red wine and while touring wine regions in Argentina you will get to taste it along with other wines like the Cabernet Sauvignon, Syrah, Chardonnay, etc.
There are more than 1300 wineries in Argentina and it would not be possible for you to visit all of them (unless of course you are taking a really looooong vacation). But whatever wineries you will visit during the course of your wine tour in Argentina, it will surely enrich your knowledge about wines and wine making.
Apart from touring wineries, you can also go sight-seeing in Argentina and discover the rich cultural heritage of the country which has been influenced by the different settlers who made the country their home.
So read on to discover more about wine tour in Argentina.
Argentina Wine Tours
Mendoza
Mendoza is the largest wine making region in Argentina. In fact we can easily term it as the 'heart of Argentina's wine country'. There are numerous wineries in the region which you can visit on your tour to the region. The place is full of scenic beauty and is also very popular with the visitors. It is also not costly and you can easily enjoy the trip without shelling out big bucks. Also you can learn the nuances of wine making at the vineyards as you sip on some fine quality wine.
Salta
This is another one of premium wine making regions in Argentina. Your trip to Salta would be incomplete if you don't visit the Cafayate city. Cafayate is famous for its vineyards and is an important point in wine making in Salta. With a wine region of over 4500 hectares, Cafayate produces some of the finest wines like the—Torrontes (white wine variety) and Cabernet Sauvignon. The place has a beautiful landscape and is quite a delight to visit.
Cordoba
This is another one of Argentina's wine regions which hold a place of importance in the country. A visit to this region will provide you with a chance to visit the local wineries and witness the masters at work as they produce good quality wines.
Rio Negro
This region is very similar to southern Spain and may take you by surprize. The region is renowned world over for producing Malbec variety of wine. The region is also full of beautiful surroundings which are sure to take your breath away.
Apart from visiting these famous wine regions, you can also try some other activities.
Wine Museums
You can make a trip to the different wine museums located in Argentina and learn about the history of wine making in the country. Some of the museums worth mentioning are—
Santiago Graffigna Wine Museum—located in San Juan, this museum is built inside a winery and has lots of photographs, old wine making equipment and tools which will help you to learn about wine making in Argentina during the 19th century.
San Felipe Wine Museum—this museum is located in the Cuyo wine region and has around 5,000 wine presses, books and wine making tools for you to get a glimpse into the age old wine making techniques.
Wine Therapy
After a tiring day touring the wineries in the region, you can let yourself be pampered by indulging in wine therapy at the various spas located across the country.  The experience will leave you rejuvenated and refreshed.
So make the most of your Argentina wine tour while you are at it.
Image credit: haroz.com 
Argentina Wine Tour