Finger Lakes Wine Tour

30 May 2011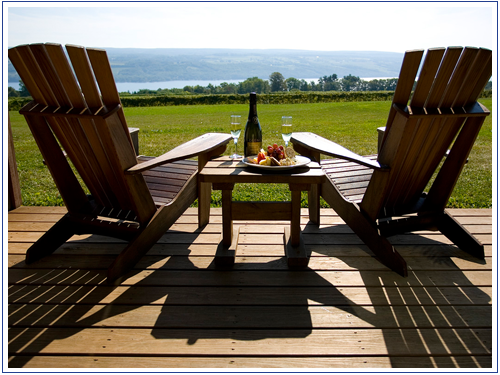 Finger Lakes wine tour will not only provide you an in-depth knowledge of wine and wine production techniques but will also enchant you with its natural beauty.
The Finger Lakes wine area is one of the largest wine producing areas in the eastern United States and has over 100 wineries located in seven of the 11 Finger Lakes.
Finger Lakes is famous for the Riesling wine but the other varieties like the Pinot Noir, Cabernet Franc, Chardonnay and Gewürztraminer are equally popular.
If you are planning to go on a tour of Finger Lakes wine areas then don't be surprised if you find the place quite full. Wine lovers from across the world travel to Finger Lakes to taste wines and relax in the scenic surroundings.
If you are interested in knowing about wine, then a tour to Finger Lakes wine areas is a must. In fact, many wineries in the region also have their own dining places where you can taste the local fare and sip on your wine as well.
So if I've got you hooked, then read on to find more about Finger Lakes wine tours.
Finger Lakes Wine Tour
There are mainly three wine areas in Finger Lakes and a tour to any one of them or all is bond to leave you heady.
Cayuga Lake
Cayuga Lake wine trail is one of the oldest wine trail in the United States. It has around 16 wineries and distilleries. Some of the earliest wineries to be established in the Cayuga Lakes region were in between 1970s and 80s. A visit to the wineries in this region will provide you an insight into wine making methods and also offer a chance to taste some of the finest wines produced here.
Keuka Lake
This is the place where the wine industry in Finger Lakes started and today the place is home to 16 wineries. Undertake a tour of this wine trail to glean some in-depth information on wine production. The Heron Hill vineyards, McGregor winery, Dr. Frank's Vinifera Wine Cellars are some of the famed wineries in the region.
Seneca Lake
Seneca Lake's tryst with wine making began in 1866 with the opening of Seneca Lake Grape Wine Company. Today this region is the most active and largest wine trail in New York, boasting of 34 wineries, two breweries, a distillery and a meadery. A visit to this region is sure to leave you in high spirits.
Rockwell Museum of Western Art
Apart from wineries hopping and wine tasting, Finger Lakes offers a lot of other options to make your tour memorable. If you want a break from wine tasting then visit the Rockwell Museum of Western Art to see the best of American western and native American art and culture. The museum also has an art trail for kids so you can make them happy as well!
The Corning Museum of Glass
This unique museum is dedicated to the glass art and history. Here you can watch glass making demos live, explore the history of glass and glass art displayed at the museum and what's more you can also make your own glass! So visit this place for some fun and enjoyment.
Finger Lakes Wine Festival
This festival is one of the largest platform for display of New York wines and is also the one-stop for shopping and tasting of wines from over 90 wineries. This is held in the month of July and the ticket prices range from $30--$45. Also there is a variety of art and craft, music, car rides, etc. to keep your companions occupied.
So go on the Finger Lakes wine tour as soon as possible and come back a lot more knowledgeable and refreshed.
Image credit: where2nowmag.com
Finger Lakes Wine Tour