How To Make Cheese Press

24 Mar 2011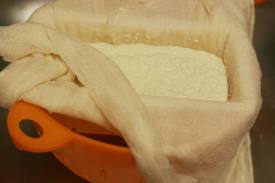 It is very simple to make cheese press at home. Making hard cheeses like Parmesan, Swiss and cheddar would be impossible without a cheese press. If you are new to preparing homemade cheese, then check out these steps to make cheese press at home before you spend dollars on buying one. The various things used for making cheese press are readily available in our kitchen. You can purchase the things that you don't have in your kitchen from the nearby thrift store.
Requirements for making a Cheese Press
These are the things that you need to make a homemade cheese press. A large vegetable can, preferably of industrial size, an opener, tin snips, a smooth dinner plate, a big stockpot, a thin clean sheet of cotton, a flat saucer and a scissor. Also keep 3 jars of 1 gal, ½ gal and 1 quart handy.
How To Make Cheese Press
Discard the two ends of the vegetable can and using the tin snips, make 4 to 6 notches, in the shape of V, at one of the ends.
Take the smooth dinner plate and keep it on the stockpot in a upside down way. The plate should be kept this way so that the press sits on the expelled whey.
Now, with the snipped side facing downwards, keep the can on the upper side of the plate.
Meanwhile, keep the cotton sheet handy. Use the thin, clean cotton sheet on the can. A certain portion of the sheet will be present above the can's top. You have to cut this off with scissors.
Now, place the cheese curds on the can and fold over the ends of the sheet in such a way that the curd is enveloped by the cotton sheet.
Pour water into the three jars and close firmly using lids.
Take the smooth saucer and keep it on the curd. Keep the quart jar at the center of the saucer in a balancing position. Allow to stand for about ½ an hour.
After half an hour, take the cheese and place it in the mold. Keep the saucer back on the top and press using the ½ gal jar. Keep aside for about 12 hours.
Repeat the process using the 1 gal jar and keep for about 25 hours or till the cheese gets the desired shape.
Voila! Your cheese press is ready.
Now make cheese press on your own and save those dollars to be spent later on while you shop for something else.
Image credit: theasiangrandmotherscookbook.wordpress.com/ 
How To Make Cheese Press