How To Cook Instant Noodles - The Correct Way To Cook Noodles Without Harming Your Health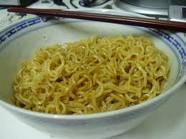 Instant Noodles is the best meal after a tiring day at the office, but are we cooking it the right way? Majority of people cook instant noodles by putting the noodles into a pot with water, throwing in the powder and letting it cook for around 3 minutes and lo! instant noodles are ready to be eaten. Incidentally, this is the wrong way to cook instant noodles and this method of cooking it can cause a lot of damage to the body. Let us see how to cook instant noodles the right way…
Correct Method to cook Instant Noodles
1. Boil the noodles in a pot with water.
2. Once the noodle is cooked, take it out and throw away the water. This water contains wax that coats the noodles.
3.Boil another pot of water and put the noodles into hot boiling water. Now switch off the fire.
4. Only at this stage when the fire is switched off and when the water is very hot, put the  powder into the water. At this stage, the noodles can be consumed as noodle soup.
5. However, if you need dry noodles, take the noodles out of the water and add the powder. Toss well.  
Vital Information Regarding Cooking Instant Noodles
Instant noodles are coated with wax and if the water is boiled and allowed to be absorbed by noodles, it is natural that the wax is consumed. It will take around 4 to 5 days for the body to excrete the wax after eating noodles. Another important thing is that in conventional method of cooking, the powder is added along with noodles and water. The powder of most noodles contains MSG which is harmful. On boiling, the molecular structure of MSG changes and it becomes toxic.
Hence, noodles are already made unhealthy and this is the type we use to make stir fry noodles and the regular Maggi too is made the same way plus they add MSG/ ajinomoto and other chemical preservatives. A large number of people in the age group of 18-24 years are ending up with pancreatitis as either a swelling or infection of the pancreas due to regular consumption of instant noodles. If the frequency is more than 3 times a week, then it is very hazardous.
Cook instant noodles the right way to keep healthy!
Image credit: indonesiathisday.blogspot.com/ 
How To Cook Instant Noodles - The Correct Way To Cook Noodles Without Harming Your Health